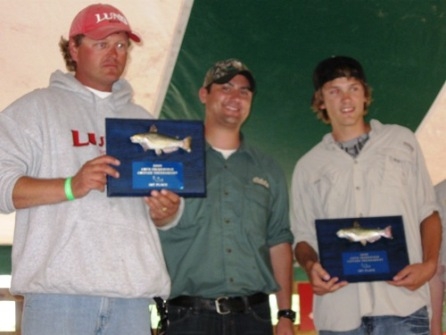 East Grand Forks, MN 8/1/09- Catfish anglers from 11 different states converged on East Grand Forks, MN this past weekend to compete for the 22nd annual Cats Incredible title. The Cats Incredible has proven to be one of the premier Catfish tournaments in the nation, due in large part to the world class Channel Catfish waters of the Red River and the lasting friendships that have been fostered over the previous 21 years of the event. This two day event has 150 boats on just over a 35 mile stretch of river that puts tremendous pressure on the fishery and leads to volatile catfish behavior and an unpredictable leader board.
Intermittent rain, high winds and post-spawn fish behavior presented numerous challenges over the two day event. As if catching these monster Channels in adverse conditions isn't difficult enough, an additional test the tournament presents is the "no culling" rule. Any fish that enters the live well must stay confined due to state regulations. Two fish over 24 inches and three under the limit are allowed to be weighed in each day. This makes for some difficult decisions during the early tournament hours on whether or not to keep a marginal fish.
Solving the Cats incredible puzzle in record fashion were anglers Troy & Zach Srnsky. The Warren, MN duo smashed a nearly 10 year old tournament record by 7.5 lbs., catching a two day total of 91.5 lbs. The Srnsky's also landed the tourneys largest Cat which tipped the scales at just over 22 lbs. They were rewarded handsomely for their record basket, taking home the top prize of $4000, $1000 for largest catfish and the $500 Lund Boat (top team fishing out of a lund boat) award for a grand total of $5500! Former champion Larry Barrow and his son Joel put together two outstanding days on the water to claim the 2nd place trophy. Their 43 lb. Day two total was good enough to vault them from 6th place after day one.
Anglers Paul Cariveau & Mervyn Rud of East Grand Forks, MN used their local knowledge and 78.32 lbs to propel them to a third place finish. Two time champions Pat and Travis Carter were on top of their game once again. As one of the most successful teams in tournament history, the Carters were in third place after day one and within striking distance of the top trophy. They were able put together another solid performance on day 2 and finished in fourth place. The "Mr. Consistency" award (a Montana Cats fake award) goes to Marv & Shane Feltman. The local anglers finished in 33rd place. They have finished in the top 35 seven times and the top 15 four times.
If you have a love for catfish tournaments, then this is the event for you. Those interested in participating in the 2010 Cats Incredible, be sure to stay posted with the Grand Forks Chamber. The tournament entries are due in February and the participant lottery takes place in March.
Please enjoy the complete results from this past weekend!
---
Final Results – 22nd Annual Cats Incredible
1. Troy Srnsky & Zach Srnsky Warren, MN 10 91.5
2. Larry Barrow & Joel Barrow Lincoln, NE 10 82.35
3. Paul Cariveau & Mervyn Rud EGF, MN 9 78.32
4. Pat Carter & Travis Carter Elk Point, SD 9 76.71
5. Brandon Oby & Chris Dolan St Thomas, ND & Minneapolis,MN 9 76.55
6. Darwin Lunski & Brian Nord Grand Forks, ND 10 76.1
7. Kevin Gietzen & Ryan Kemnitz EGF, MN 7 73.06
8. Mark Swenson & Jerry Wenzel EGF, MN & Randall, MN 10 67.71
9. Ryan Rupert & Chris Koon Grand Forks, ND 8 67.49
10. John Sonstegard & James Nordlof Baudette, MN 9 67.09
11. Brad Nelson & Kevin Thompson EGF, MN 9 65.88
12. Victor Moreno & Duane Restemayer Hoople, ND & Edinburg, ND 6 65.71
13. Merle Hoverson & Jeffrey Zak EGF, MN 10 64.62
14. Billy Cariveau & Marty Cariveau Fargo, ND & EGF, MN 8 63.96
15. Tony Weber & John Anderson EGF, MN 7 61.98
16. Marty Berg & Jon Brundin Grand Forks, ND 8 61.72
17. Alex Vournas & Eric DeBilt Thief River Falls, MN 7 61.55
18. Ben Moen & Mitch Johnson EGF, MN & Fisher, MN 5 59.76
19. Don Oster & Ryan Oster Grand Forks, ND 7 57.92
20. Perry Gagnon & Alfred Gagnon Grand Forks, ND 6 57.14
21. Randy Ostgard & Jacob Ostgard Grand Forks, ND 6 56.94
22. Casey Clement & Dave Clement EGF, MN 8 56.81
23. Lee Bell & Paul Tomaselli Grand Forks, ND 10 56.4
24. Andre Fortune & Mike Peterson EGF, MN & Grand Forks, ND 7 54.86
25. Brent Riddle & Kayla Riddle Chillicothe, MO 8 54.75
26. John Howard & Ralph Miller Grand Forks, ND 7 53.09
27. Dave Christensen & Erin Christensen Maddock, ND & Garfield, MN 7 52.17
28. Greg Micko & Scott Garner Cottage Grove, MN & Cambridge, MN 5 51.96
29. Ryan Gregoire & Riley Gregoire EGF, MN 5 51.55
30. Phillip Jeffery & Jason Kalt EGF, MN & Warren, MN 8 51.51
31. Ray Lee & Eric Thompson Grand Forks, ND & EGF, MN 6 51.18
32. Jeff Heath & Eric Heath EGF, MN & Alvarado, MN 10 50.66
33. Marv Feltman & Shane Feltman Grand Forks, ND 8 49.92
34. Kevin Boushee & Bennett Boushee EGF, MN 6 49.63
35. Todd Mischler & Larry Mischler Grand Forks, ND & EGF, MN 8 48.77
36. Ernie Friedrichs & Kristie Friedrichs Eden Prairie, MN 4 48.08
37. Jeff Zejdlik & Randy Zejdlik Grand Forks, ND 6 47.42
38. Jesse Weber & Troy Weber EGF, MN 7 47.16
39. Fred Liebsch & Dustin Lunski Larimore, ND & Grand Forks, ND 8 46.63
40. Gordon Graetz & Cody Graetz Arvilla, ND 7 46.01
41. Randy Galstad & Jason Mack EGF, MN 7 45.83
42. Shannon Martin & Curt Quesnell Thief River Falls & Newfolden, MN 10 45.65
43. Lee Kohl & Mike Stauss Emerado, ND & Grand Forks, ND 6 45.6
44. Beau Abbey & Jarid Boushee Grand Forks, ND 9 45.57
45. Terrence Anderson & Steven Keller Grand Forks, ND & EGF, MN 4 45.53
46. Bob Anderson & Wade Anderson EGF, MN 4 45.22
47. Heath Hodgson & Bill Murray EGF, MN 7 44.41
48. Michael Haney & Daniel Hasley Beatrice, NE & Fairbury, NE 4 44.07
49. Jason Hilde & Donn Hilde Grand Forks, ND 7 43.92
50. Ryan Rogalla & Dane Vigen Thief River Falls, MN & Grand Forks D 5 43.54
51. Jerry Sersland & Kevin Frohlich Grand Forks, ND 3 43.29
52. Brian Rud & Kevin Grove Grand Forks, ND 6 42.98
53. Josh Burgett & Michael Elsberry Oslo, MN & Grand Forks, ND 4 42.49
54. Lee Reed & Richard Hinrichsen Sioux City, IA & Akron, IA 5 42.2
55. Brady Flaten & Nate Molstad Glasgow, MT & Havre, MT 6 42.08
56. Bill Crocker & Joel Tangen Grand Forks, ND 5 42.03
57. Tom McDonald & Sarah McDonald EGF, MN 4 41.9
58. Tyler Messelt & Danny Messelt EGF, MN 10 41.89
59. Ken Cremers & Greg Cremers Grand Forks, ND & EGF, MN 5 41.1
60. Jimmy Yowell & Jeff Yowell Chillicothe, MO 4 40.52
61. Rod Heinitz & Todd Diebert Hillsboro, ND & Grand Forks, ND 3 39.74
62. Curtis Havig & Jeff Johnson Grand Forks, ND 4 39.36
63. Marv Robinson & Todd Biederman Battle Lake, MN 8 38.06
64. Tim Pesch & David Pesch EGF, MN 4 37.04
65. Adam Olson & Joe Winkels Grand Forks, ND 5 36.64
66. Brian Block & Allen Hilligoss Lincoln, NE 8 36.35
67. Bradley Nelson & David Nelson Drayton, ND & Moorhead, MN 5 36.23
68. Chad Erickson & Jeremy Grove Climax, MN 6 35.77
69. Christopher Hanson & Randahl Hanson New Hope, MN & Crookston, MN 7 35.65
70. Rich Longoria & Tim Brooks Grand Forks, ND & EGF, MN 6 35.03
71. Rob Raymond & Jack Johnston EGF, MN & Grand Forks, ND 5 34.94
72. Daryle Gomez & Tim Gomez Lincoln, NE 4 34.44
73. Carter Narum & Chris Narum Grand Forks, ND & Horace, ND 3 34.19
74. Tom Gradzieleski & Matt Maguire Drayton, ND & Grand Forks, ND 8 33.97
75. Gary Mounce & Bonnie Mounce Nebraska City, NE 4 33.88
76. Shawn Aaker & Mike Messelt EGF, MN 4 33.68
77. Andrew Erickson & Ben Litzinger Grand Forks, ND 3 33.59
78. Shelly Schumacher & Harvey Akridge Reynolds, ND & Grand Forks, ND 6 33.08
79. Jeff Jordheim & Scott Jordheim EGF, MN 7 32.5
80. Mark Soeby & Joshua Soeby Grand Forks, ND 3 31.25
81. Richard Guillemette & Jeff Kostrewski Argyle, MN & Crookston, MN 3 31.06
82. Darrin Abernathy & Brooke Abernathy Grand Forks, ND 3 30.63
83. Lee Adamson & Chris Hams Grand Forks, ND & EGF, MN 4 30.23
84. Ken Coauette & Jim Perkins EGF, MN 2 29.8
85. Brian Nelson & Bruce Nelson EGF, MN 5 29.18
86. Allen LaFave & Chad LaFave Grand Forks, ND 4 28.86
87. Ryan Berg & Jeremy Beck EGF, MN & Grand Forks, ND 4 28.69
88. Larry Vanderhoff & Linda Vanderhoff Grand Forks, ND 5 28.56
89. Gerald Litzinger & Steve Walsh Grand Forks, ND & Mekinock, ND 4 28.38
90. Bev Johnson & Jay Dell Lincoln, NE 3 27.22
91. Larry Yowell & Steve Mowry Kirksville, MO & Kansas City, MO 3 26.28
92. Tommy Walters & Alex Heng Nebraska City, NE 4 26.21
93. Gary Johnson & Shane Johnson McVille, ND & Grand Forks, ND 4 25.89
94. John Knauf & Abraham Belew Grand Forks, ND 5 25.69
95. John Nordine & Tammy Nordine Grand Forks, ND 3 25.65
96. Jason Schiller & Steve Quam Grand Forks, ND & Roseville, MN 4 23.17
97. Mike Taylor & Chris Taylor EGF, MN 5 23.05
98. Scott Anderson & Eric McWalter EGF, MN 3 22.13
99. Dennis Larsen & Charles Zacha Crookston, MN & Grand Forks, ND 1 21.05
100. David LeTourneau & Warren Eichner Stacy, MN & Isanti, MN 4 20.62
101. Tony Lorentz & Kim Nelson EGF, MN 8 20.07
102. Kevin Weber & Kyle Weber EGF, MN 2 19.51
103. John & Daniel Lindquist Grand Forks, ND & Thief River Falls, MN 2 19.39
104. Mike Howard & Jeremy Snohl Grand Forks, ND 3 19.17
105. Karry Kyllo & Pam Kyllo EGF, MN 2 18.7
106. Terry Meland & Christian Meland Grand Forks, ND 1 17.62
107. Wilbur Vanderhoff & Justin Huebner Glendale, AZ & Grand Forks, ND 3 17.4
108. Richard Nelson & Michael Levy Grand Forks, ND 3 17.25
109. Andy Staveteig & Kyle Bry Thompson, ND & Denver, CO 1 16.86
110. Wade St Germain & Phil Sillanpaa Argyle, MN & Newfolden, MN 1 16.53
111. Pat Bushaw & Janell Bushaw Manvel, ND 4 16.34
112. Aaron Johnson & Tony Mitzel Grand Forks, ND & EGF, MN 3 15.94
113. Kris Newman & Brian Stennes Grand Forks, ND 1 15.88
114. Darrell Utzinger & Jeff Twomey EGF, MN & Mendota Heights, MN 4 15.44
115. Randy Miller & Randy Helgeson Grand Forks, ND & Crookston, MN 2 15.17
116. Kelly Clement & Greg Schleif Shakopee, MN & EGF, MN 2 14.81
117. Tyler Dokken & Paul Selid Williston, ND & Grand Forks, ND 2 14.54
118. Brent Newman & Tyler Newman Grand Forks, ND 2 14.23
119. Tony Gomez & Randy Hartley Lincoln, NE 1 12.63
120. Allen McCurry & Arron Gjerswold Alvarado, MN & Grand Forks, ND 2 12.58
121. Gary Grosz & Darin Grosz Grand Forks, ND & Elbow Lake, MN 4 12.57
122. Clifford Peterson & Scott Slusar Lancaster, MN & Hallock, MN 1 12.31
123. Bob Wasylow & Cody Wasylow Grand Forks, ND 3 12.18
124. Marc Kurz & Brent Nesdahl Thompson, ND & Emerado, ND 1 8.89
125. Mike Laschkewitsch & Steve Pich Grand Forks, ND & Mandan, ND 4 8.88
126. David Larsen & Dan Melberg Grand Forks, ND 1 8.65
127. Jeff Sime & Jade Sime Grand Forks, ND 1 8.27
128. Chuck Gust & Teri Hammarback EGF, MN 2 8.11
129. Michael Johnson & Rita Feltman Drayton, ND 3 7.96
130. Shawn Mager & Ken Narlock EGF, MN & Grand Forks, ND 1 6.71
131. Tom Westra & Ann Westra Moorhead, MN 1 6.36
132. Brent Melsa & Calvin Anderson Crookston, MN 2 6.03
133. Phil Hartwig & Cason Weber EGF, MN 1 4.84
134. Dwaine Rud & Greg Winskowski Stephen, MN 2 4.32
135. Travis Walden & Andrew Vigen EGF, MN & Grand Forks, ND 2 4.17
136. Brenner Flaten & Jason Flaten Wright, WY & Gillete, WY 1 3.31
137. Martin Magnusson & Dan Rerick Grand Forks, ND 1 3.13
138. Larry Dorsch & Tim Hager Auburn, NE 1 2.51
139. Marc Stennes & Tyler Graetz Reynolds, ND & Grand Forks, ND 0 0
140. Daniel Connors & Dana Connors Bode, IA 0 0
141. James Muntean & Nick Muntean Maplewood, MN & Lino Lakes, MN 0 0
142. Timothy Lafferty & Justin Waters Buxton, ND & Grand Forks, ND 0 0
143. Jeff Rusling & Noel Rusling EGF, MN & Crookston, MN 0 0
144. Jason Berger & Marlene Murray Grand Forks, ND 0 0
145. Peter Novak & Dorothy Green East Bethel, MN & Fisher, MN 0 0
146. Geoff Swenseid & Hunter Swenseid Stephen, MN 0 0
147. Lee Hensrud & Iver Hensrud Grand Forks, ND & Mekinock, ND 0 0
148. Andrew Lamoreux & Steve Abbey Grand Forks, ND & EGF, MN 0 0
149. Charles Olson & Brandon Olson Grand Forks, ND 0 0
150. Arthur Johnson & Kenny Johnson Petersburg, ND 0 0
Posted in: Other Tournaments