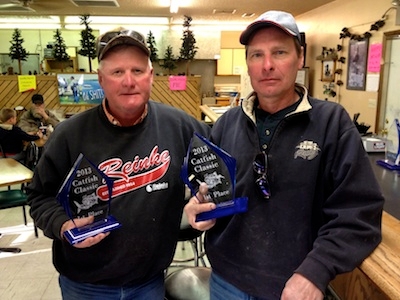 Lewellen, NE 5/4/13 – The 16th Annual Lake McConaughy Catfish Classic took place over the weekend and impressive baskets once again littered the weigh-ins. With the lake being down dramatically from last year, it forced some teams to change up their approach. Some teams undoubtedly struggled with the difference in water levels, while others seemed to have adjusted without fault. As with any other year of this event, every team has to deal with the difficult decision of fishing the lake in the comforts of their boat or hoofing it on the banks of the North Platte River in search of some success from the shore. The decision you ultimately make can make the difference in an appearance near the top of the leader board or one that has you bringing up the rear.
For the second consecutive year, Kevin Robertson and Doug Canning manned their airboat up the river to produce a ten fish limit that no one else could challenge. Robertson and Canning are the first to win back-to-back titles since tournament results started being recorded. And for the second straight year, the team that they nipped for the top prize was their sons. Nathan Robertson and Jeremy Canning, also fishing from an airboat, claimed the runner-up trophy for the second consecutive year. As if last years loss of less than one pound to their fathers wasn't enough already, the duo would come up less than 1 1/2 pounds short this go around. Excruciating losses for family bragging rights for the both of them, but an unbelievable performance nonetheless for the second straight year. Both of these teams deserve a ton of credit for winning last year and then coming back and proving no luck was involved. As of right now, they all deserve the title of "Cat Classic Kings".
The top ten looked eerily similar to previous years, especially last year. Seven of the top 10 teams from 2012 returned to the top ten this year. Last years third place team of Mark Canning and Alex Canning finished a very respectable 10th place. Finishing in third place this year was Kendal Kessler and Bob Mallard. As was the case with the top two teams, Kessler and Mallard also targeted their cats in the North Platte River throughout the day. Nathan Robertson and Jeremy Canning captured their own repeat of sorts over the weekend by capturing their second consecutive big fish award. Their cat tipped the scales at 12.72 lbs., the biggest cat caught at the Classic in many years. Two other cats were weighed in at over 11 lbs., proving the big fish are definitely out there to be caught.
The Lake Mac Cat Classic just never seems to disappoint. Every year it is one of the most well attended events in catfish tournament rich Nebraska. The teams come back every single year to Darrell and crew at The Oregon Trail Trading Post. Everyone comes back because they put on a truly fine event. Do yourself a favor and pencil in May 3rd, 2014 for the 17th version of this tournament. You will be treated to a calcutta and social on Friday night complete with a free team meal and Saturday will provide you with ten hours of non-stop tournament action. Please enjoy the complete results from this past weekend.
---
Big Fish Award
Nathan Robertson – Jeremy Canning 12.72 lbs.
Other Big Fish
Kevin Robertson – Doug Canning 12.14 lbs.
Chris Williams – Shaun Poppe 11.56 lbs.
Complete Results
1. Kevin Robertson – Doug Canning 89.32 lbs.
2. Nathan Robertson – Jeremy Canning 87.92 lbs.
3. Kendall Kessler – Bob Mallard 72.80 lbs.
4. Brad Hahn – Ryan Warner 60.68 lbs.
5. Randy Morris – Ed Elsner 59.94 lbs.
6. Kevin McCarthy – Sean Saunders 58.32 lbs.
7. Kannon Parks – Troy Evans 52.88 lbs.
8. Andy Hain – Robbie Hain 50.82 lbs.
9. Brenner Flaten – Chad Dawson 47.38 lbs.
10. Mark Canning – Alex Canning 44.42 lbs.
11. Matt Ryan – Mike O'Shea 42.72 lbs.
12. Dean Kellogg – Dan Lindholm 36.60 lbs.
13. Loyd Volgamore – Marnie Ryan 35.92 lbs.
14. John Rosasco – Mike Rosasco 35.10 lbs.
15. Cory Eichenberg – Philip Wagner 34.28 lbs.
16. Kelvin Robertson – Bryan Cole 30.90 lbs.
17. Mike Weaver – Leona Williams 26.48 lbs.
18. Robert Stitt – Amanda Garcia 21.86 lbs.
19. Brad Lightsey – David Brown 20.60 lbs.
20. Chris Williams – Shaun Poppe 18.04 lbs.
21. Bob Sack – Payton Sack 15.76 lbs.
22. Terry White – Gary White 15.34 lbs.
23. Leroy Sack – Bob Sewell 15.18 lbs.
24. Duane Kirch – Tristan Kirch 14.54 lbs.
25. Greg Volgamore – Cody Volgamore 10.96 lbs.
26. Joe Kellogg – Ed Baisley 4.42 lbs.
27. Timm Kumm – Michael Croxen 1.00 lbs.
27. Andy Austin – Dwayne Pauley 1.00 lbs.
27. Andy Dickerson – Mike Chapman 1.00 lbs.
30. Andrew Crom – Chad Boughton 0 lbs.
30. Dave Wesley – Steve Jankowski 0 lbs.
30. Bruce Peterson – Horrace Dugan 0 lbs.
30. Rick Amaya – Luis Maldonado 0 lbs.
30. Tony Pressler – Bill Peterson 0 lbs.
30. David Barbero – Jeff Bingham 0 lbs.
30. Ralph Hail – Kyle Malone 0 lbs.
30. Kevin Carlson – Mike Moody 0 lbs.
30. Charles McDowell – David Collins 0 lbs.
30. Marvin Benthin – Ryan McNemy 0 lbs.
40. Dave Hoffert – Anthony Borghi 0 lbs.
Posted in: Other Tournaments