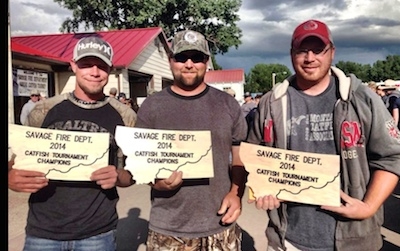 6/14/14 Savage, MT – The Annual Savage Fire Department Catfish Tournament has carved out quite the niche for itself over the past eleven years. Savage's unique "slot fish" rules have become common knowledge by now and has turned into an event where even the most avid "big fish" angler enjoys a weekend to just "change it up" a bit. For those in the dark, SVFD's annual event is held in Savage, MT. on the beautiful Yellowstone River on the second Saturday of every June. Anglers are only allowed to bring in their five biggest catfish to weigh-ins. Here is the kicker however; all of those catfish must fall between 12" and 18". This causes veteran catfish anglers to change up their tactics a touch and also start looking in new areas. Anglers must adjust their way of thinking, chasing the big fish won't pay off here. Everyone must try to focus on what attracts the little guys, so to speak. Weigh-ins are always an adrenaline rush and that carries over to the awards presentation on Saturday night.
In what is becoming common place, the Friday night calcutta auction set another record. The totals came out just under $40,000 for 2014. This is the best year on record and unbelievable for a 61-team field. It is an event in itself and a must see for all you Eastern Montana natives looking for some cheap entertainment. (That is of course cheap, if you're not purchasing a team). Following the auction, teams headed back home to prepare for an early morning on Saturday.
Saturday brought a steady overcast and cooler temperatures for the full day of fishing, but for the first time in many years, precipitation stayed away. The morning kicked off with a 6:30 a.m. rules meeting. The first flight departed at 7:00 a.m. and the second flight would take off a full half hour later. This is customary practice at the Savage Catfish tournament. The second is then allowed to come in a half hour later for weigh-ins. The weigh-in times are 3:00 and 3:30 p.m., respectively.
The 11th Annual event proved to be one unlike any we had ever witnessed. Typically, seven pounds has a very good opportunity at bringing home the coveted homemade engraved plaques, however, NINE teams were able to eclipse that impressive total in 2014. The trio of Steve Harris Jr., James Decker, and DJ Roth, all of Sidney, MT., were able to claim top honors with a very impressive 7.645 lbs. Steve could hardly contain his excitement as he recalled his first ever catfish tournament title, "Night Crawlers were the key for us today. We couldn't get a bite on anything else." Nice work and congratulations on a fine tournament gentleman! Taking runner-up honors was Sam Syth, Todd Dooley, and Fran Syth, also out of Sidney, with 7.490 lbs. Putting a stranglehold on the bronze was Chance Micheletto, Duane Anderson, Patti Micheletto with a hulking 7.470 lbs. Not too shabby for this little "slot tourney".
Once again, the boys at the Savage Fire Department knocked it out of the park. This tournament fills fast year to year and provides first opportunity to those that fished it the previous year. If you're looking at being one of the new teams crashing the party in 2015, you might want to contact the Fire Department (406-776-2211) and get a head start on entering immediately once they open the last few spots to the general public in May.
Top 9 out of 61 total teams
1. Steve Harris Jr., James Decker, DJ Roth 7.645 lbs.
2. Sam Syth, Todd Dooley, Fran Syth 7.490 lbs.
3. Chance Micheletto, Pat Micheletto, Patti Micheletto 7.470 lbs.
4. Jim Miller, Jim Miller Jr., Jeffrey Miller 7.345 lbs.
5. Brady Mueller, Chad Mueller, Justin Verhasselt 7.205 lbs.
6. Brenner Flaten, Chad Dawson, Cole Plouffe 7.130 lbs.
7. Jeremy Reese, Cory Nay, Gavin Reese 7.040 lbs.
8. Gary Polson, Josh Polson, Brian Ler 7.030 lbs.
9. Jeremy Schepens, Randal Obergfell, Loren Kutzler 7.005 lbs.
Posted in: Other Tournaments