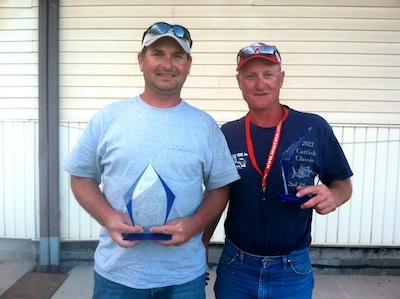 Lewellen, NE 5/5/12 – The water is back up on Lake McConaughy and it seems to only be benefitting the area catfish population. When the catfish are active, the annual Nebraska Catfish Classic held on Lake Mac and the North Platte River is tough to beat. The 15th Annual took place this past weekend, headquartered once again out of the Oregon Trail Trading Post in Lewellen, Nebraska. Darrell and the crew kicked off the weekend with a free fisherman's feed, followed by the Calcutta and social on Friday night. The weather cooperated with sunny skies opening up to provide an 80-degree day for all to enjoy.
Rest assured, no one in attendance will soon forget what they witnessed at the weigh-ins. For the second year in a row, the tournament record was broken, however, this time it went down by over ten pounds. Kevin Robertson and Doug Canning placed their 10-fish limit on the scale and watched it dial up to an amazing, 92.68 lbs. The duo had a balanced basket with nearly every fish over 9 lbs., and their biggest coming in at 10.4 lbs. They pointed to using live minnows and having some valuable pre-fishing as the keys to the impressive victory. Both men were excited to finally claim the tournaments top prize after competing in the event for over a decade.
Perhaps the bigger prize is the bragging rights they have now acquired over their sons, Nathan Robertson and Jeremy Canning, who came in nipping at their heals with an equally amazing basket of fish, tipping the scales at 91.78 lbs. Nathan and Jeremy came up just short of taking down their elders, but can be proud of the fact that they weighed in the second biggest weight in the fifteen years of the event. They were aided by the big fish of the day, a 12.14 lb. bruiser. Focusing their efforts up the North Platte River, the teammates managed to catch, what they estimate to be, over 100 catfish on the day and were not able to keep more than two rods in the water at any time. Both of the top two teams had the benefit of Air Boats to navigate the rough terrain that the North Platte is known for, especially in low flows, as was the case this year.
Rounding out the top three was Mark Canning and Alex Canning with an impressive 10-fish basket at 80.92 lbs. Incredibly, thirteen teams brought in over 60 lbs. and over half of the 52-team field weighed in over 30 lbs. The day proved difficult for some of the teams, however, as eighteen teams failed to weigh fish. Every year teams have to make the all-important decision on whether to concentrate their efforts in the lake or make their way up the river. The decision can often make or break a team's ultimate success and this year was no different.
Any prospective catfish tournament anglers looking for an early season event that is fun, profitable, and accommodating look no further than the Lake Mac Cat Classic making its return for a sixteenth time next year on Saturday May 4th, 2013. Darrell and the crew at the Oregon Trail Trading Post will treat you right and you will make a few friends in the process. Please enjoy the complete results and podcasts from this past weekend below.
---
Big Fish
Nathan Robertson – Jeremy Canning 12.14 lbs.
Complete Results
1. Kevin Robertson – Doug Canning 92.68 lbs.
2. Nathan Robertson – Jeremy Canning 91.78 lbs.
3. Mark Canning – Alex Canning 80.92 lbs.
4. Bob Sack – LeRoy Sack 72.34 lbs.
5. Kendall Kessler – Bob Mallard 71.94 lbs.
6. John Rosasco – Mike Rosasco 71.76 lbs.
7. Kannon Parks – Troy Evans 68.80 lbs.
8. Brenner Flaten – Jason Flaten 65.66 lbs.
9. Brad Hahn – Ryan Warner 64.22 lbs.
10. Mark Sewell – Robbie Brown 63.88 lbs.
11. Luis L. Maldonado – Luis M. Maldonado 62.38 lbs.
12. Andy Dickerson – Mike Chapman 60.72 lbs.
13. Michael Croxen – Timothy Kumm 60.54 lbs.
14. Loyd Volgamore – Marnie Ryan 58.62 lbs.
15. Dean Kellogg – Dan Lindholm 56.20 lbs.
16. Justin Sack – Payton Sack 56.10 lbs.
17. Charles McDowell – David Collins 54.50 lbs.
18. Kevin McCarthy – Sean Saunders 48.48 lbs.
19. Bob Stitt – Buck Johnson 45.25 lbs.
20. Mike Purcell – Daryl Bertolini 43.82 lbs.
21. Michael Moody – Kevin Carlson 42.62 lbs.
22. James Duskin – David Carlson 40.64 lbs.
23. Randy Morris – Ed Elsner 40.22 lbs.
24. Brad Lightsey – Punch Edwards 34.84 lbs.
25. Wayne Hanson – Roy Parmely 34.18 lbs.
26. Greg Volgamore – Cody Volgamore 33.00 lbs.
27. Matt Ryan – Mike O'Shea 32.82 lbs.
28. Danny Gardner – Crystal Gardner 26.86 lbs.
29. Shaun Waegli – Tammi Jo Smith 19.42 lbs.
30. Jay Wilkerson – Terry Wisdom 10.84 lbs.
30. Andy Austin – Dwayne Pauli 10.84 lbs.
32. Ed Baisley – Joe Kellogg 10.44 lbs.
33. Mike Weaver – Leona Williams 8.42 lbs.
34. Lloyd Lust – Martin Weidenbacher 5.18 lbs.
35. Larry Taylor – Kurt Dunham 0 lbs.
35. Eric Mitchell – Jennifer Mitchell 0 lbs.
35. Adam Lechman – Bret Kirk 0 lbs.
35. Layne Olson – Scott Copley 0 lbs.
35. Nick Sims – Matt Weiseler 0 lbs.
35. Kelvin Robertson – Bryan Cole 0 lbs.
35. Andrew Crom – Chad Boughton 0 lbs.
35. Levi Gardner – Kourtnie Magness 0 lbs.
35. Herb Legg – Christopher Wax 0 lbs.
35. Ricky Butcher – R.J. Tugnutz 0 lbs.
35. Dave Wesley – Steve Jankowski 0 lbs.
35. Matt Lothamer – Vivian Lothamer 0 lbs.
35. Bonnie Waegli – James Waegli 0 lbs.
35. Todd Grudznske – Brad Gribble 0 lbs.
35. Craig Trout – Case Sonnenberg 0 lbs.
35. John Miles – Tim Trout 0 lbs.
35. Adam Schuster – Andre Gurule 0 lbs.
35. Larry Gibbs – S. Gibbs 0 lbs.
Posted in: Other Tournaments