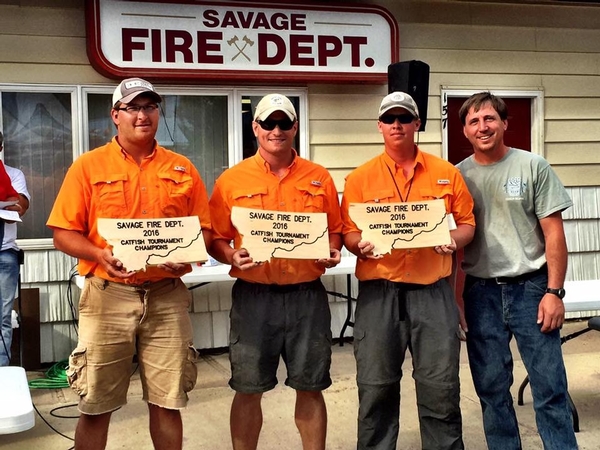 6/11/16 Savage, MT – For a 12th consecutive year, the Savage Fire Department Catfish Tournament was held in the small Eastern Montana town that hugs the Yellowstone River along the Montana-North Dakota border. The rules remained the same. Each team is allowed to bring five Channel Catfish to weigh-ins. ALL five catfish must fall in the "slot" and measure between 12" and 18". Anything under 12" or over 18" must released during the tournament and not weighed. This always creates an interesting obstacle for the 3-man teams to overcome. One weekend a year, catfish anglers need to change tactics, shift the focus off of big fish, and scratch and claw for the little guys.
This year was unlike any other on record, however, as twenty-five teams out of sixty weighed in over seven pounds. (a weight that is typically impressive enough to take home the title). Fighting their way to the top of a field littered with impressive weights was the trio of Brenner Flaten, Glasgow, Chad Dawson, Dickinson, ND, and Cole Plouffe, Glendive. Using a run and gun approach and a plethora of different baits, the champs set a NEW all-time tournament record with a basket of fish tipping the scales at 8.305 lbs. "Anytime you can win a tournament it just feels great, regardless of the event or the money on the line, taking hardware home is awesome". Dawson, Flaten, and Plouffe have teamed up the past four years in Savage and had previously finished in the top six in both 2013 and 2014. Flaten becomes the first 2-time champion in event history. His previous title came in 2006, while teaming up with Jason and Brady Flaten.
This year's winners were not the only one's enjoying an outstanding day on the water. Local team, captained by Harlan Conradsen finished in 2nd place overall. Their weight of 7.925 lbs. was also good enough to eclipse the previous tournament record weight of 7.900 lbs. set in 2015. Harlan's team secured the runner-up spot and some family bragging rights along the way by finishing just ahead of the 3rd place squad, captained by Shawn Conradsen and their 7.780 lbs. Gary Paulson took home the big fish honors, winning the separate cash prize, with his 14.325 lb beauty. It is the third largest catfish ever weighed in at the Savage tournament.
Friday night's Calcutta festivities were impressive as always and the social and farm-raised catfish feed after the event was again well attended. The crew at the Savage Fire Department deserves a ton of credit for continuing to put on a first class event that combines a fun-filled social environment with a serious slice of competitiveness. The tournament rarely has any openings as this year's anglers will once again have first opportunity to register for next year's event. The 13th Annual event will take place in Savage on June 10th, 2017. If any opening spots become available they will be open to the general public next May. Please enjoy the top six results below:
---
Top 6 (60 Teams)
1. Brenner Flaten, Chad Dawson, Cole Plouffe 8.305 lbs.
2. Harlan Conradsen, Judy Conradsen, Trisha Schepens 7.925 lbs.
3. Shawn Conradsen, Lance Miller, Paxton Miller 7.780 lbs.
4. Leslie Haglar, Brent Hagler, Ryan Madison 7.760 lbs.
5. Matt Reynolds, Carrie Niblock, Pat Reynolds 7.725 lbs.
6. Darren Hurley, James Oliver, Brian Arsenault 7.560 lbs.
Posted in: Other Tournaments