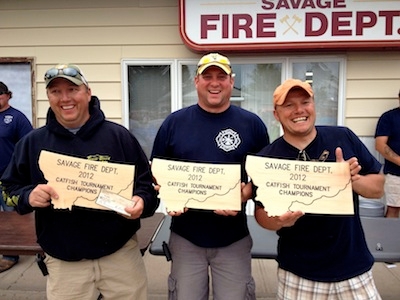 Savage, MT 6/9/12 – The 9th Annual Savage Volunteer Fire Dept. Catfish Tournament is officially in the books and this years leader board truly tells the tale. In a year where records seem to be falling left and right on the Montana Cats Tour, the Savage tournament proved to be no different. Never before had so much weight been brought to the scales. Once again anglers were only able to weigh-in their five biggest slot fish, as only 12″ to 18″ cats count towards your final tally. Anytime you can land over five pounds it is a very successful day on the water and anything near six and you very well could be looking at a championship. This year it took nearly six pounds just to squeak into the top six and take home some prize money.
Local anglers, Chad Mueller, Brady Mueller, and Justin Verhaselt would rise above the rest and turn in a new tournament record, 7.83 lbs, besting the previous mark set by Brenner, Brady, and Jason Flaten in 2006 at 7.74 lbs. The trio pointed to the use of chicken livers and targeting current seems as their keys to the championship. Brady and Chad are some of Montana's most accomplished catfish tourney anglers and were excited to sit atop the mountain after many years of knocking on the door. Brady has a runner-up finish at the Monster Cat Roundup in 2010, a 12th place finish in last years Milk River Catfish Classic, and a top-five finish at last years Inaugural Missouri River Catfish Clash, while Chad is a two-time runner up at Sidney's Monster Cat Roundup in 2009 and 2011. A well deserved title indeed.
Taking runner-up honors was the tournament veteran crew of Brenner Flaten, Chad Dawson, and Cade Flaten. Finishing well off the pace, they weighed in a five catfish limit at 6.50 lbs. The three anglers felt fortunate after the events culmination, as they did not have a single slot fish in the boat before noon. Rounding out the top three was another local squad: Don Mastvelten, Kirk Sanders, and Donny Dillman. They pushed for 2nd place honors, coming up just short with 6.45 lbs. Despite not be able to weigh-in a slot fish, Brandon Mueller was able to bring even more success to the Mueller family this past weekend. Brandon cashed-in on the tournaments big fish pot when he weighed in a 14.435 lb. Yellowstone trophy. It is one of the bigger fish ever weighed in at the Savage tournament and Brandon's personal best after many years of chasing kitties in the Sidney area. Congrats on a fantastic catch Brandon!
There are a few things that you can always count on when it comes to fishing. A great time in Savage, Montana on the second weekend of every June is one of them certainties. The folks with the Savage Volunteer Fire Dept. are first class and put on a top shelf event year in and year out. If you are an avid tournament angler and would like the challenge of targeting "slot fish" for a change, it is time to start making your plans. We can assure you it will not disappoint. Anglers who have fished the tournament the previous year always have the first chance at registration, so if you are new to the party, do not wait long as it fills its 60-team field very quick. Come and enjoy an incredible calcutta that you have to see to believe and enjoy a farm-raised catfish feed after a long day on the water. Please enjoy the top six results from this past weekend's event below.
---
Big Fish Award
Brandon Mueller 14.435 lbs.
Top 6 overall (60 teams)
1. Chad Mueller, Brady Mueller, Justin Verhaselt 7.830 lbs.
2. Brenner Flaten, Chad Dawson, Cade Flaten 6.500 lbs.
3. Don Mastvelten, Kirk Sanders, Donny Dillman 6.450 lbs.
4. Jason Werholz, Aden Uecker, Zack Anderson 6.360 lbs.
5. Shawn Conradsen, Lance Miller, Paxton Miller 6.005 lbs.
6. Wayne Quinnell, Chuck Quinnell, April Price 5.790 lbs.
Posted in: Other Tournaments