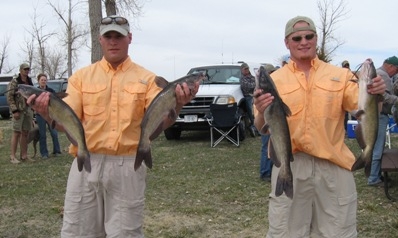 Imperial, NE 4/5/08 – The Montana Cats field staff put together a team this past weekend for a tournament in South-Western Nebraska. The 1st Annual Izaak Walton League Catfish Tournament on Enders Reservoir, located near Imperial, was a great success and the team of Brenner and Jason Flaten, both of Wright Wyoming, came away with the top prize.
Fourteen teams would set out on beautiful 1,700 acre Enders Reservoir at 7:00 a.m. Saturday morning. The team of Flaten/Flaten used a variety of baits throughout tournament hours, while fishing numerous spots, helping them land nine catfish on the day. The action, by no means, was non-stop, as the team was boating about one fish every hour, however, their 5 fish-limit weight of 22 lbs. 15 oz. outdistanced the competition by just under 4 lbs. When asked about their keys to a successful day on the water, Brenner Flaten said, "The River Pro was essential for us at this tournament, some of the water we wanted to fish was real shallow, and without the aid of a jet boat it would not have been possible to get back there. I also think having a variety of fresh baits always helps in tournaments." The duo had their limit at noon, and spent the last three hours trying to improve their stringer. Six teams would catch their limit of five catfish on this beautiful sunny 65 degree day. The second place team boated a five fish limit of 19 pounds.
The tournament paid out the top three teams in the tournament, the calcutta, as well as the big fish pot. The Flaten's came away with just over $1,000 for their efforts, as they also took home the big fish pot and calcutta. The Izaak Walton league will now use the money derived from this inaugural event to put on two kids fishing days during the summer. These kids fishing days have been very successful on Enders in the past, and the money will help provide free tackle, apparel, and bait to all youth involved. It's nice to see the proceeds from this event going to such a great cause! The event is sure to experience growth into the future and the field staff members will most likely return for many years to come.
TOP 5 (14 teams)
1. Brenner Flaten / Jason Flaten 22 lb. 15 oz.
2. Butch Raue / Mark Spady 19 lb.
3. Rammage Jr / Louie 17 lb. 12 oz.
4. Rammage Sr / Dick Miller 13 lb. 7 oz.
5. Joe Birge / Mary Birge 10 lb. 3 oz.
Posted in: Other Tournaments