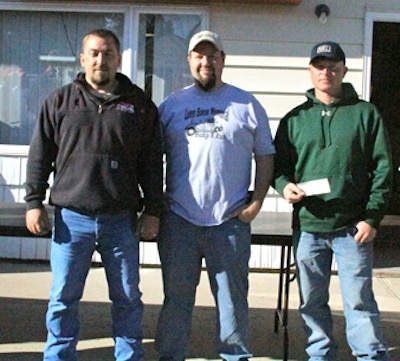 6/8/13 Savage, MT – Low water was in store for the Savage Catfish Tournament over the weekend and it obviously did not affect the fishing. In what might have been the most impressive weights in the tournaments history, the entire top ten weighed in over five pounds. Keeping with its traditional rules of weighing your biggest five cats in the twelve to eighteen inch bracket anything over five pounds has to be considered an excellent day on the water. Winning their first ever Savage Catfish Tournament championship was the trio of: Jerame Schephens, Loren Kutzler, and Randall Obergfell. The local anglers are the 10th different team to win this tournament, as there has never been a repeat winner. Their winning weight of 7.840 lbs. eclipsed the previous tournament record set by the Mueller brothers last year at 7.830 lbs. Speaking of the defending champs, Chad Mueller and Jusin Verhasselt teamed up with Brandon Mueller to nearly defend their crown. They weighed an impressive basket of cats that would end up tipping the scales at 6.710 lbs. Rounding out the top three with 6.375 lbs. was Harlen Conradsen, Judy Conradsen, and Trisha Schepens. The local teams continue to make a huge impact on this event. Jesi Thiel, Teresa Weber and Rebecca Miller caught the biggest catfish of the tournament on Saturday, winning the separate big fish pot. The team's fish was 15.82 pounds, another Savage Catfish Tournament record and a true fish of a lifetime.
The Friday night festivities were certainly a hit despite all of the rain. A savage tournament record of over $37,000 in the calcutta pot was the highlight of the evening. The Savage Volunteer Fire Department benefits from 35% of the annual calcutta pot as it continues to be a fantastic fundraiser for the non-profit department. There is a ton of generosity in the air at this catfish tournament ladies and gentleman. In all, sixty teams were auctioned off and were set to compete in the all-day Saturday event. Two flights of thirty teams were released thirty minutes apart at 7:00 a.m. and 7:30 a.m. They then converged on the mighty Yellowstone River for eight hours of fun-filled action. Weigh-Ins were held at 3:00 p.m. and 3:30 p.m. at the Elk Island boat ramp. The post tournament festivities were once again held at the Fire Hall on main street in downtown Savage. Over half of the field was awarded quality door prizes that were courtesy of many local businesses in the area. Following the presentation of door prizes, the top six teams, calcutta winners, and big fish winner were presented with their tournament purse winnings and other awards. The famous farm-raised catfish feed followed and was open to the entire community and surrounding areas. The catfish feed is a great social event that allows the locals to give thanks to the volunteer fire department, while the anglers also get a chance to talk fishing for another couple of hours.
The 11th Annual is already scheduled for Saturday June 14th, 2014. For all of you seasoned catfish tournament anglers out there this might be an event you want to try your hand at. It offers a unique change from the big fish events we fish year-round. If you want to see what a challenge catching twelve to eighteen inch catfish can be then look no further than the Savage Catfish Tournament. You will not be disappointed. Montana Cats has been attending this event for 8 years now and can tell you first hand that it is a very well ran event and one that continues to make improvements every single year.
---
Top 10 out of 60 total teams
1. Jerame Schepens, Loren Kutzler, Randall Obergfell 7.840 lbs.
2. Chad Mueller, Brandon Mueller, Justin Verhasselt 6.710 lbs.
3. Harlen Conradsen, Judy Conradsen, Trisha Schepens 6.375 lbs.
4. Brenner Flaten, Chad Dawson, Cole Plouffe 5.835 lbs.
5. Shawn Conradsen, Lance Miller, Paxton Miller 5.795 lbs.
6. Ben Rahr, Pat Kettner, Wade Nielsen 5.695 lbs.
7. Steve Munger, Chase Hagler, Tanner Hagler 5.640 lbs.
8. Bud Peterson, Loretta Starkey, Terra Stanford 5.590 lbs.
9. Chris Peterson, Mark O'Toole 5.410 lbs.
10. Don Masvelten, Kirk Sanders, Missi Sanders 5.360 lbs.
Posted in: Other Tournaments