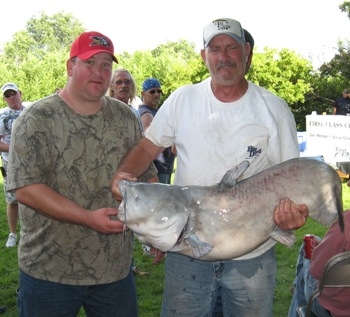 Sioux City, IA 7/25/09 – Montana Cats field staff members, Brenner and Jason Flaten competed in the 6th Annual First Class Cat Attack in Sioux City, Iowa this past Saturday. The tournament was stationed out of the main boat ramp on the Missouri River in Sioux City, but tournament fisherman were allowed to fish the Missouri and any of its tributary waters as long as they could be reached by boat. All three catfish species, the Blue, Flathead, or Channel were legal targets.
The Cat Attack has truly become one of the premier catfish tournaments in the entire nation, boasting some of the finest catfish anglers from seven different states. The anglers reigned from Iowa, Nebraska, Minnesota, Wyoming, Missouri, Kansas, and South Dakota. It offers an impressive payout that can be hard to find when scouring the globe for great catfishing competition. The event is ran by successful catfish angler, Pat Carter, and is backed by his great sponsors, including their top-flight sponsor, the First Class Credit Union.
The tourney offered a guaranteed $5,000 payback in cash and prizes. When it exceeded 30 teams, every additional team added to the final payout. With a record 51 teams competing this year, and the First Class Credit Union generously pitching in a $1,000 Carter bounty, the total cash payout for this year's event was an astounding $6,205.00!!
During the 2009 edition of the "Cat Attack", there was no shortage of surprises either. No Blue Cats had been landed since the Inaugural event six years ago, while this year one big blue and another monster blue were hauled into the weigh-ins. More than twice as many Flatheads were caught this year than in any of the other previous five tournaments. Tournament limits, however, were hard to come by, as only two teams were able to land their limit of ten catfish.
When the dust finally settled, it was the duo of Dean Stroman and Bruce Stroman, both of Sioux City, Iowa taming their home waters and taking home the team title. It only took one fish, however, as they landed a beautiful 56.6 lb. Blue Cat during the early morning hours. It would ultimately hold up and they would be crowned the 2009 champions. The big bruiser would end up netting the anglers a total of $2,936.00!! Runner-up honors went to Keith Copenhaver of Sioux City and Chris Sharp of Merrill, Iowa with an impressive ten fish limit at 40.9 lbs. The duo showed their versatility in bringing in 6 Flatheads and 4 Channel Cats. Their biggest fish, the largest Flathead of the tourney, weighed in at 14.7 lbs.
A special thanks should go to Pat Carter for running this impressive event and to the First Class Credit Union for helping the tournament grow to all-time heights. Montana Cats field staff looks to return to Sioux City in future years.
---
Top 10 Overall (51 teams)
Dean Stroman – Bruce Stroman – 56.6 lbs.
Keith Copenhaver – Chris Sharp – 40.9 lbs.
Brant Kurtz – Travis Deeds – 35.7 lbs.
Chad Saunders – Dan Gill – 28.5 lbs.
Jeff Wagner Jr. – Jeff Wagner Sr – 25.65 lbs.
Larry Carter – Mike Carter – 24.15 lbs.
Greg Barnes – Kyle Barnes – 20.05 lbs.
Rick Rivers – TJ & Sam Hummel – 19.95 lbs.
Cork Lemmon – Dolly Huss – 17.95 lbs.
Douglas Wagner – Jeanne Stich – 15.75 lbs.
Posted in: Other Tournaments