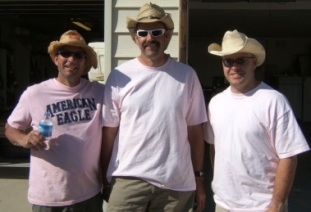 Savage 6/9/07- The 4th Annual Savage Volunteer Fire Dept. Catfish Tournament took center stage in Eastern-Montana on June 9th, 2007. Like many of the other catfish tourneys in the region, the event again had an all-time high in teams and filled the capacity 50-team field a week in advance. What teams didn't expect, was the massive rain-fall leading up to the event and the sudden change in the water conditions. This created an all new challenge for all 150 participants in the event. The weekend kicked off with the popular Friday night Calcutta held at the fire hall in downtown Savage. The Calcutta provided a great atmosphere that allowed teams to gather around and tell fishing stories and talk tactics, all the while enjoying a fresh burger or hotdog right off the grill! This years Calcutta pot did not disappoint and continues to grow ever year, it managed to grow to just over $10,000 this year.
It was a beautiful sunny day for this years tourney, providing the first day of sun for the area in nearly five days. The team captained by Chuck Reynolds was able to find the winning combination and win the tournament title! The team stuck with one spot throughout the day and was able to milk 7.175 lbs., a truly impressive stringer of 12-18 inch catfish. The team of Bill Jones, Phil Hageman, and Kent O'Donnell used a different approach to claim their second straight runner-up finish in the event. Putting a run-and-gun approach into play, the three-man team hit multiple spots throughout the day. Bill Jones added. "We would pull up on a spot, and pull one or two fish out, than the action would slow, and it would be time to move on." The approach seems to be working well, because back to back top 2 finishes is very impressive. The Big Fish Award winner was Chad Maher, who landed a 7.425 lb. hawg, good enough for a $200 check. Overall, the number of teams bringing in their limit was down, however, the tournament was still very much a success.
Jim Miller and the Volunteer Savage Fire Dept. continue to put on a tremendous event that continues to grow on a yearly basis. The Montana Catfish Association truly appreciates people like Jim that help provide more opportunities for the catfish angler in the state of Montana. Jim had this to say, "Next year we are looking at some potential growth, I would like to see the boundaries be lengthened and the number of teams increased." Take a look at the final results from the weekend as well as pictures from the entire event.
BIG FISH
Chad Maher 7.425 lbs.
COMPLETE RESULTS
1. Chuck Reynolds 7.175 lbs.
2. Bill Jones 5.785 lbs.
3. Jason Partridge 5.425 lbs.
4. Clint Prevost 4.830 lbs.
5. Troy Conradsen 4.470 lbs.
6. Mike Metzenberg 4.390 lbs.
7. Pam Klempel 4.315 lbs.
8. Mario Thorson 4.280 lbs.
9. Brandy Lien 4.25 lbs.
10. Lance Miller 3.54 lbs.
11. Chuck Thiel 3.365 lbs.
12. Amanda Reynolds 3.310 lbs.
13. Melissa Conradsen 3.220 lbs.
14. Larry Mindt 3.050 lbs.
15. Mark Urlacher 3.020 lbs.
16. Chad Mueller 2.665 lbs.
17. James Miller 2.565 lbs.
18. Chuck Quinnell 2.455 lbs.
19. Cory Conradsen 2.295 lbs.
20. Heidi Schmierer 2.035 lbs.
21. Royce Micheletto 1.780 lbs.
22. Wayne Eschenbacher 1.530 lbs.
23. Chris Vojacek 1.285 lbs.
24. Brenner Flaten 1.160 lbs.
25. Jim Messer 1.060 lbs.
26. Don Mastvelton .645 lbs.
27. Chad Maher .635 lbs.
28. Rodney Williams .490 lbs.
Posted in: Other Tournaments