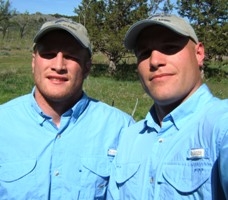 Nebraska 5/5/07– Brenner & Jason Flaten recently competed in the 10th annual Lake McConaughy Catfish Classic held in Western Nebraska. The tournament field was made up of 53 teams comprised of mainly Colorado and local Nebraska anglers. This was a boat or shore event and was limited to the ten heaviest catfish. The Montana based team made the trek to Nebraska on Wednesday so they could get in a few days of preparation for the event. The pre-fishing days were spent mapping out a plan and putting the fish on a pattern. The days leading up to the tournament and the day of the tourney, were mainly rain-soaked and overcast.
With a plan intact, we began Saturday morning with a ton of anticipation. However, it did not take long to realize that the fish were in a little different mood that day compared to the pre-fishing we had done. Action was slow throughout the majority of the tournament hours. We were bringing in a catfish about once an hour, and anybody that knows anything about tournament fishing knows that isn't very good! We knew fishing was slow when we were putting our baits in the very same places we had been a week ago and nothing seemed to be working. Those same places were yielding fish after fish of over six pounds just a week earlier. We put ourselves in a difficult situation and we felt confident that our plan would work, when it backfired, there really wasn't a whole lot we could do about it. We had set up a pick up point with a local resident a day earlier, and that pickup point was at least five miles down river from where we had started the day. When we arrived at the pickup point there was only one hour remaining in the tournament. We were sitting on a limit of catfish at the time, but not anymore than 30 pounds. We had caught 16 catfish in the nine hour period we had been walking that stretch. We knew it would take a lot more than that just to crack the top ten.
So we got dropped off at the place we started in the morning and plan B jumped into motion. While pre-fishing the previous day, we had located a spot on a different section of the river that was very productive and we felt that we could milk a couple out before the time ran out on us. A few wash-board gravel roads and a 1/4 tank of gas later we had arrived at plan B. With only twenty five minutes left to do our fishing it proved to be a smart move. In the twenty five minutes we landed five cats , four of them would be included in our 10 fish limit at the end of the day. Three of the fish were well over five pounds and we managed to catch them all within 15 minutes of each other. Arriving at the weigh-in station, without a minute to spare, we were feeling a little bit of relief. We knew we didn't reach our goal , but glad we stayed after it when things were not going as planned. Our ten fish limit ended up being a respectable 48.14 lbs., good enough for 8th place overall.
Top 10 (53 teams)
1. Andy Hain / Robbie Hain 74.9 lbs.
2. Henry Barker / Brandon Barker 63.1 lbs.
3. Rob Sack / Bob Sack 61.06 lbs.
4. Bob Hattendorf / Doug Leopol 56.78 lbs.
5. Johny Ramsey / Scott Ramsey 54.24 lbs.
6. Mark Hemmes / Darrell Fisher 51.52 lbs.
7. Jeremy Canning / Nathan Robertson 49.32 lbs.
8. Jason Flaten / Brenner Flaten 48.14 lbs.
9. Charles McDowell / David Collins 48.02 lbs.
10. Sean Sanders / Kevin McCarthy 45.86 lbs.
Posted in: Other Tournaments