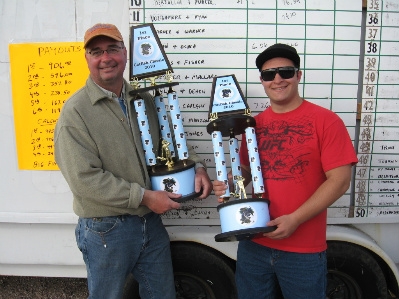 Lewellen, NE 5/1/10 – The 13th Annual Lake McConaughy Catfish Classic took place over the weekend. The Classic once again proved to be a true test of catfishing ability. The tournament was headquartered out of the Oregon Trail Trading Post just outside Lewellen, Nebraska and began Friday night with a calcutta/social and free burgers and brats for all the competitors. This years version pitted 53 avid teams against each other. Tournament boundaries included the entire Lake McConaughy and The North Platte River west to the town of Oshkosh. A ten fish limit, ten hours of fishing time, and the option to fish from boat or shore provided the anglers with a lot of flexibility throughout the tournament.
Tournament conditions were average, with temps in the upper 50's, but winds gusting up to 30 mph. Overall weights were down drastically from previous years, as only 28 teams would weigh-in fish and 25 teams would come up empty handed. When the smoke cleared, however, it was the tournament veteran combo of Matt Ryan and Mike Oshea, both of Denver, Colorado that would take home the top prize. Last years 3rd place team and Big Fish winners, the duo remained patient throughout the entire tournament to help them boat a total of nine catfish weighing in at 33.66 lbs. Mike had this to say on their victory, "We didn't have a single fish before noon, but ended up fishing 20 to 25 spots, and landed 8 of our 9 fish in two hours when we found a honey hole".
Coming up just short, finishing in 2nd place was the local team of Buck Johnson and Robert Stitt, weighing in their limit of 10 cats at 31.3 lbs. Buck and Robert are no strangers to tournament success on Lake Mac either, as they finished 4th place in 2009 as well. They landed a total of 16 catfish on the day, and Buck gave us some insight into their success, "It was a pretty tough day overall till we started looking for them after lunch. We had nothing at noon, but we starting catching some bigger fish when we fell into 14 to 18 foot of water." Only three teams would make a return to the top ten this year, but that group included last years champions, Loyd Volgamore and Marnie Ryan, finishing in a very respectable 7th place with 24.1 lbs. Montana Cats Field Staff members, Brenner and Jason Flaten, both of Wyoming, made the trip to Lewellen for the fourth consecutive year, placing 17th with 13.3 lbs.
If your looking to get your catfish tournament season off on the right foot in future years. Consider making a trek to Western Nebraska. Darrell and the crew at The Oregon Trail Trading Post are a class act, and put on a tremendous event.
Enjoy the pictures and complete final results from this past weekends event!
---
Top 10 Overall (53 teams)
Matt Ryan – Mike Oshea – 33.66 lbs.
Robert Stitt – Buck Johnson – 31.3 lbs.
Nick Werth – Ken Manzanares – 28.24 lbs.
Timothy Kumm – Michael Croxen – 27.64 lbs.
Sean Sanders – Kevin McCarthy – 27.14 lbs.
Bob Hattendorf – Doug Leopold – 26.82 lbs.
Loyd Volgamore – Marnie Ryan – 24.1 lbs.
Tater Johnson – Mark Ribble – 22.92 lbs.
Jacob Sanford – Jason Sanford – 22.52 lbs.
Dean Kellogg – Dan Lindblom – 21.50 lbs.
Posted in: Other Tournaments