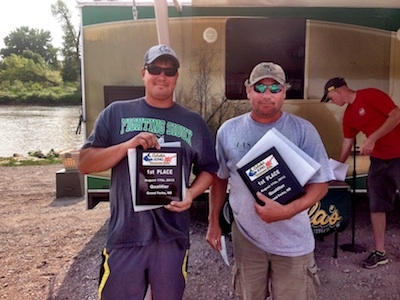 8/17/13 East Grand Forks, MN – The Cabela's King Kat Tournament Trail hit the waters of the Red River at Grand Forks, North Dakota. In the event over 80 of the top anglers from 9 different states were competing not only for the cash and prizes, but the opportunity to qualify for the 2013 Cabela's King Kat Classic. This year's Cabela's King Kat Classic will be held September 26-28, 2013 on Kentucky Lake at Camden, Tennessee Be sure to check out our new website at King Kat USA. It's a new site with new and exciting information on our events along with special information for catfish anglers everywhere.
Taking first place was the team of Andre Fortune of East Grand Forks, Minnesota and Mike Peterson of Grand Forks, North Dakota with a total weight of 43.84 pounds and earning $3,000.00. Andre and Mike also captured big fish of the event with a 19.94 pound cat which earned the team an additional $680.00. The team was anchored down within a mile south of the boat ramp fishing in 14-18 feet of water using sucker minnows to catch 10 fish for the day. Each team is allowed to weigh in their top 5 fish for the day of competition.
In second place was James Benson of East Grand Forks, Minnesota and Brian Rud of Grand Forks, North Dakota weighing in 42.66 pounds and earning $1,500.00. James and Brian were also working the area a mile south of the ramp in 15-20 feet of water using goldeyes and frogs to catch 8 fish for the day. Third place went to the East Grand Forks, Minnesota team of Billy and Paul Cariveau with a weight of 40.75 pounds and earning $600.00. Billy and Paul were anchored down south of the Thompson bridge in 15 feet of water using frogs and goldeyes to catch 10-12 fish for the day. Andrew Vigen of Grand Forks, North Dakota and Jarod Kovar of East Grand Forks, Minnesota took fourth place with a weight of 39.34 pounds and earning $400.00. Andrew and Jarod were also fishing south of the Thompson bridge in 10 feet of water using goldeye and frogs to catch 10 fish for the day. Fifth place went to the Correctionville, Iowa team of Brant and Alison Kurtz with a weight of 38.44 pounds and earning $300.00. The husband and wife team, Brant and Alison were fishing south of the Thompson bridge in 12-18 feet of water using waterdogs and frogs to catch 12 fish for the day.
"We wish to give a special thanks to Stephanie Bernstrom and her staff at the Greater Grand Forks CVB and East Grand Forks Cabela's store for making the event a success", said Cabela's King Kat CEO Darrell Van Vactor. "The weights were really close with only 10 pounds difference between 1st and 10th place" added Van Vactor. For more information on the area call Toll-Free 1-(800)-866-4566 or visit their website at Visit Grand Forks.
NATIONAL SPONSORS: Cabela's The World's Foremost Outfitter , Evinrude Outboards, Oquawka Boats, Minn Kota Trolling Motors, Mustad Hooks, Adventure Products- EGO Nets, Humminbird Electronics, Driftmaster Rod Holders, Ron Gooding Insurance, GAMMA LINE, Fishhound.com, Rippin Lips Venture RV, B 'n' M Poles, Bee Jay Baits, Cat River Anchors, Tyler Prosthetics of Tyler Texas and Stubby Steve's Bait. The following companies provide product to Cabela's King Kat Tournaments USCA-United States Catfish Association, GoLight, WFN-World Fishing Network.
B 'n'M is the 2013 "Official Rod Sponsor" of the Trail! B'n'M has been helping crappie fishermen catch more fish for years, now they are helping the catfisherman! The all new Silver Cat Series is made of 100% fiberglass, and offers many features only found in catfish rods at a much higher price point. The nylon cord grip will offer great, no-slip handling even with wet, slimy hands, and is durable enough for use in a rod holder. The super-slick ceramic guide inserts are framed by equally high-quality aluminum oxide alloy and will provide smooth line flow for heavy lines. The graphite reel seat will accommodate any size reel, and will keep it tight to the rod for maximum sensitivity. Finally, the glow-in-the dark tip will help you see the lightest of bites during night-time fishing. The Silver Cat is a medium action rod, with a sensitive tip to maximize your catfishing efforts. As with all B'n'M products, they believe sensitivity is the key to catching more fish, regardless of the species.
---
Top 10 out of 61 total teams
1. Andre Fortune, East Grand Forks, MN. – Mike Peterson, Grand Forks, ND. 43.84
2. James Benson, East Grand Forks, MN. – Brian Rud, Grand Forks, ND. 42.66
3. Billy Cariveau, East Grand Forks, MN. – Paul Cariveau, East Grand Forks, MN. 40.75
4. Andrew Vigen, Grand Forks, ND. – Jared Kovar, East Grand Forks, MN. 39.34
5. Brant Kurtz, Correctionville, IA. – Alison Kurtz, Correctionville, IA. 38.44
6. Jesse Weber, East Grand Forks, MN. – Amy Vanscoy, East Grand Forks, MN. 38.34
7. Dustin Lunski, Grand Forks, ND. – Jamie Gulaites, Grand Forks, ND. 34.10
8. Phillip and Lynnsey Hartwig and Cason Weber East Grand Forks, MN. 33.66
9. Branden Lunski, Grand Forks, ND. – Nicole Fennell, Grand Forks, ND. 33.02
10. Dave Clement, East Grand Forks, MN. – Tim Brooks, East Grand Forks, MN. 32.82
Complete Results
Cabela's King Kat – Final Results
Pictures
Cabela's King Kat – Event Pictures
Posted in: Other Tournaments