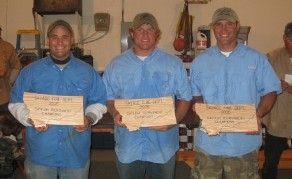 Savage 6/10/06- The Yellowstone River is the longest free flowing river in the lower 48 States and it boasts some of Montana's best Catfishing. It was put to the test this Saturday during the 3rd Annual Savage Fire Dept. Catfish Tournament. The folks at the Savage have put forth a ton of effort to get this fishing extravaganza organized and running. This years event included a pre-tournament social, Calcutta, fishing tournament, catfish feed and numerous door prizes. The tournament rules allowed teams of 1-3 and the quirky rule of targeting 12 to 18″ Cats (5 fish limit). Normally this would not be a difficult task, however, the Yellowstone has an average fish size much larger than that. It was a rainy afternoon with as much as 1 1/2 inches of rain falling on the contestants heads. Most teams weighed fish but staying under the slot limit was difficult for many. 39 teams braved the wind and rain to fish for the mighty Channel Cat. Brady Flaten, Brenner Flaten & Jason Flaten, fishing in a 2006 River Pro, were able to find the right combination. They finished with a 5 fish total weighing 7.74 pounds, which was good enough for the tournament title. This tournament was well run and a good time was had by all. Montana Cats recommends anyone interested in a good time and meeting some friendly people to pencil in the second weekend of June, 2007 for Savage, MT.
Big Fish
Kevin Bentz 11.71 Lbs.
Top 6 Teams
1. Brenner Flaten – Brady Flaten – Jason Flaten7.74 Lbs.
2. Mike Samson – Phil Hageman – Bill Jones 5.59 Lbs.
3. Brett Hepp – Tandi Hepp – Heidi Schmierer 5.075 Lbs.
4. Justin Messer – Bill Hamburg – Jim Messer 4.59 Lbs.
5. Angie Bentz – Kevin Bentz – Dave Mckinne 4.58 Lbs.
6. Tim Dolphey – Marshall Vojacek – Paul Vojacek 4.26 Lbs.
Posted in: Other Tournaments