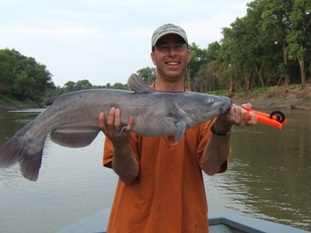 East Grand Forks, MN 9/12/07- Two teams from Montana recently competed in the prestigious Cats Incredible tournament held on the Red River along the border of Minnesota/North Dakota. The teams of Brady Flaten/Jason Molstad and Jerry Molstad/Nate Molstad, looking to prepare themselves for the tough competition and conditions, traveled over on Tuesday evening with a mission in mind. They spent three full days pre-fishing and mapping out a plan. Pre-tournament fishing yielded mixed results for the two squads. Brady and Jason felt they had the fish on a pattern. Their Wednesday through Friday total resulted in 6 fish over 10 lbs., 2 over 19, and 1 over 21. Nate and Jerry ,however, were experiencing some difficulties on the water and fishing was unbearably slow.
The tides soon turned as the first day of the tournament approached. 150 boats were just about to invade a 35 mile stretch of river. The anticipation was high for all the tournament anglers involved. The opportunity to take home the first place prize of $4,000 was at stake. It was time to "get it on"!
Day one was a bag of mixed results. Fishing was down from the start (as compared to previous years) and the weights were not overwhelming. Nate and Jerry's first day, however, total was just that….impressive! Their 36 lb. limit of 5 cats was good enough for a 4th place day one standing (150 teams). Brady and Jason were drained after a grueling day on the water; which yielded only three slot fish for a total weight of 11 lbs. They stood in the middle of the pack after day 1.
Day two would prove pivotal in determining which team would be walking away with the grand prize, as well as those that were determined to move up the leader board. Jerry and Nate knew they would have to put together another impressive day to stay in the big money and Brady and Jason knew it would take a Herculean effort to sneak into the top 35. When it was all said and done, the two Montana teams were not able to put together the second day result they were desperately hoping for. For the second straight day, Brady and Jason would boat their three slot fish early, only to miss out on the cats that could make the difference. Jerry and Nate boated two slots during the second day pushing their total to 39.52 lbs. good enough for 41st place, finishing just outside the money.
Posted in: Other Tournaments