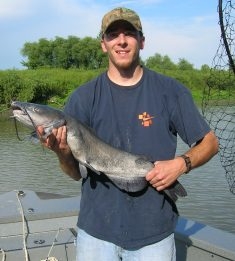 East Grand Forks, MN 9/10/06 – Anticipation surrounded the 2006 Cats Incredible tournament as Montana Cats made a return trip to the annual event held on the mighty Red River of the North. Nate Molstad and Brady Flaten competed on behalf of Montana Cats for the 06′ version of the tournament. The competition was stiff, as many of the 150 teams were comprised of the top Catfish anglers in the region. The weather was tricky. It's been a very dry summer, which in recent weeks, led to a very tough bite due to the low water conditions.
Two days prior to the tournament, however, monsoon like rains pumped new life into the Red River Valley. Stable weather was not in the cards, which at times can lead to a very intriguing bite. Jason & Brady Flaten finished in 33rd place the previous year, so this year was sure to be an improvement…..right? Not so fast my friend. Pre-fishing was mainly used to scout new areas and get a "feel" for the river. We entered the tournament with a plan and we were sticking to it. After day 1, however, we struggled to meet the 5 fish limit; ending up with 3 fish, missing out on two slot fish.
We made a few decisions early that ended up costing our daily pound total as well. State law requires each team to decide on the spot whether or not to keep the fish due to the "culling" regulation. We were unable to find the pattern to land the big ones on day two; boating 5 fish but staying put at 70th place; 8 fish total for 50.3 pounds for the weekend. Despite the disappointing finish, It was another fun weekend on the Red and 2007 is sure to be interesting. Two Montana teams have registered for the 2007 tournament: 1.) Brady Flaten/Jason Molstad 2.) Nate Molstad/Jerry Molstad. Now it's just a waiting game.
Posted in: Other Tournaments