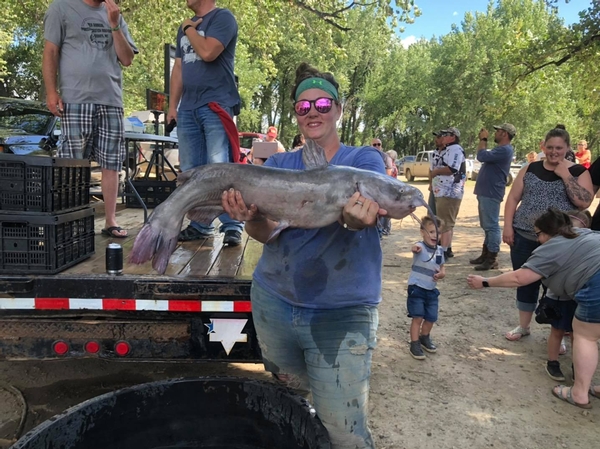 7/18/20 - Sidney, MT. - They've done it again! Back in 2018, KaCee McPherson and Nicole Peterson both of Savage, MT., became the 1st All-Female Champions in Montana Cats history when they took down a field of 60 teams at the 10th Annual Monster Cat Roundup. Last weekend, at the 12th Annual Monster Cat Roundup in Sidney, the ladies put an even more dominant performance together. On the back of the largest Channel Cat ever weighed in during the 21-year history of MT Cats Circuit events; KaCeee and Nicole weighed in a whopping 31.75 lbs., besting a field of 57 teams by just under 2 lbs. Making it even more unbelievable, the anglers only weighed in 4 fish after accidentally culling out a 5th fish near 6 lbs. The mistake occurred during a hectic last 20 minutes of the event. During the last 20 minutes, Nicole would land the record breaking 16.02 lb. behemoth that set hysteria into motion where the duo accidentally released an extra fish. The shore anglers only caught "7 or 8" Catfish on the day, but they made them count! It's also only the 2nd time a shore team has ever won a Montana Cats Circuit event on the Yellowstone or Missouri joining their previous performance from shore in 2018.
The ladies from Savage were not the only team to enjoy an amazing day on the water as a RECORD eighteen teams weighed in 20+ lbs. It smashes the record of thirteen teams over 20 lbs. way back in 2013. Truly incredible fishing for a post-spawn event that has become known for the Cats being in a bit of "lock jaw". The runner-up squad is very familiar to the top of the leader board as Jimmy Decker, Sidney, MT., and Steve Lowrey, Fairview, MT., weighed in an outstanding basket of Cats at 29.93 lbs. The father-son team of James and Luke Bergerson, of Sidney, MT., put in a fine performance finishing in 3rd place overall with 29.18 lbs. Trevor Gust, Glendive, MT., and Layton Peters, Glenburn, ND., finished in 4th place with 27.19 lbs. Rounding out the Top 5 were last year's Champions, Garrett Leuenbergerr, Sidney. MT., and Chase Hagler, Savage, MT. with another impressive day, finishing with 26.69 lbs.
The Ranger Lounge was once again a fine host for Friday and Saturday night's activities surrounding the event. Steve and Ashley Harris have been putting the event on in Sidney for 12 years and it's an event that is enjoyed by the entire community. The Montana Catfish Association would like to thank all of this year's sponsors and invite ALL angers to participate in the 13th Annual Monster Cat Roundup in July of 2021.
The 2020 Montana Cats season has not come to a close just yet! The 10th Annual Missouri River Catfish Clash is coming to Williston, ND. on Saturday August 15th. This year's Montana Cats Angler of the Year race is coming down to the wire and will be decided across the border in BIG fish territory. In what might be the most contested AOY race in MT Cats Circuit history, thirteen anglers still have a mathematical chance at the coveted top prize.
12th Annual Monster Cat Roundup FINAL RESULTS
Posted in: Monster Cat Roundup