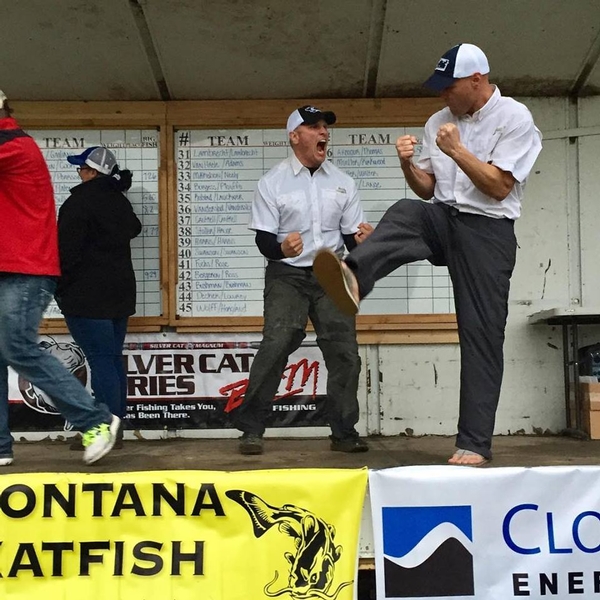 5/12/18 (Huntley, MT) – Over its 12 years in existence, the Yellowstone Challenge catfish tournament has proven time & time again to be incredibly unpredictable. This year was not an exception. The record snow pack, high temps and rain showers the night of the event, set the stage for a rip roaring Yellowstone River. The increased flows peaked around 40K CFS on tournament day, over doubling the flow from the previous week. The floating debris, 40 degree temps and increased flows forced the anglers to cover more water and increased the numerous challenges presented.
The top catfish anglers in Montana met these obstacles head on, highlighted with 33 teams capturing over 20lbs of cats. That is JUST under the previous record of 34 teams set last year. To put this in perspective, consider that only three other times in tournament history has the field eclipsed 10+ teams weighing in 20lb+ baskets. It's safe to say that with increased flow, comes increased action. In the words of famed catfish angler and In-Fisherman editor Doug Stange, "FAST WATER, FAST ACTION"!
Circuit vets James Decker (Sidney, MT) and Steve Lowrey (Fairview, MT) tipped the scales 25.75 lbs. That marks this squad's second straight top 10 at the Yellowstone Challenge. Local legends, former champs and father/son combo Robert and Bobby Wise finished in 9th, with just over 26 lbs. "We had that weight by mid-day. We just struggled to upgrade to a bigger kicker fish" explained Bobby. 2nd year anglers Dan and Amber Achten finished an impressive 8th place. Last year's event was their first and one of the first times they'd ever fished for Catfish. "We are loving it. We spent a lot of time on the river fishing after last year's event" exclaimed Amber.
Local anglers Michael Erdman and Alexander Kochman tipped the scales at 26.58 lbs, good enough for 7th place. Alexander said, "We were just excited to compete against some of the best anglers in the state. We're pretty happy." Blayze Mikkelson and Dustin Neely out of Shepherd got a pleasant surprise when the scale flashed 28.21 lbs. "I thought we were just over 25 lbs" explained Blayze. That weight was good enough for 6th place and a LONG wait in the leader chairs.
George Stuckers Jr. and George Stuckers Sr. started the top 5. This father/son combo has been fishing this tourney for years and finally broke through with an impressive basket of 28.33 lbs of Yellowstone kitties. Steve Harris Jr. & Steve Harris Sr. out of Sidney once again crushed it. They landed just under 29 lbs of Yellowstone beauties, good enough for 4th place overall. "It was some of the best fishing we've had on this section. The two days pre-fishing and today, tournament day, was just unbelievable." Explained Harris Sr. Dan LaPierre and Sandy Rogers of Billings stepped up with a HUGE basket of fish, tipping the scales at 33.26 lbs settling in at 3rd place. That weight surpassed the previous tournament record of 33.09 lbs set by Robert and Gerald Tallent of Forsyth in 2011. On a normal year that weight would be safe for a championship but this wasn't your normal year.
Back-to-back Yellowstone Challenge champions and 2016 Montana Cats CO-AOY Randy Franco and Nick Fortier out of Billings were next on stage. Their 34.46 lbs of Channel Cats amazed the crowd and anglers alike. It appeared to be an insurmountable weight for this 4 fish limit tourney. There was, however, one more team left to weigh fish. Uncertainty filled the weigh-in area as Brenner and Jason Flaten approached the scales. The mighty basket was placed on the scales and a NEW TOURNAMENT RECORD of 35.68 lbs flashed. Brenner and Jason celebrated on stage and then reflected "It was by far the BEST fishing we've ever had on this section. We were a little worried about the dropping water temps due to the rains but it looks like the increased flows were the key. We caught 42 fish today. Just a great day on the water" explained Brenner. What a great day indeed!
The Yellowstone Challenge and Montana Cats would like to thank the following sponsors for helping make this tournament possible: Cowboys, Riverside Marine & Cycle, Cat River Anchors, Briggs Distributing, Whisker Seeker Tackle, B'N'M' Poles, RS Jet Boat Anchors, Shelly George with Thriven Financial Services, CM Built Doors and Cloud Peak Energy.
The Montana Catfish Association is a NON-PROFIT organization that runs this tournament and others around the state to help promote Channel Catfish in Montana and local communities. All of our tournaments are OVER 100% payback. That means 100% CASH payback from entries and thousands of dollars in additional prizes. We're in it for the fishermen, local communities and Channel Catfish. If you check out the tournament rosters, you'll notice a distinct "family" feel to it. We love the friendly competition and comradery these events provide. Lifelong friendships have and will continue to develop as a result. Thank you SO much to everyone that participates in our events to make us one of THE most successful Catfish circuits in the NATION!
If you haven't checked us out online, please take the opportunity to do so @ montanacats.com. Stay connected to us on social media outlets Facebook, twitter and our message board. Also, please sign up for our email list to stay better informed on ALL the happenings with Montana Cats year round.
Two of our Montana Cats events; the Missouri River Catfish Clash in Williston, ND and Monster Cat Roundup in Sidney still have openings. Take this opportunity to sign up now before it's too late. See everyone in Glasgow for the second leg of the Montana Catfish Association tour at the Milk River Catfish Classic on June 2nd.
12th Annual Yellowstone Challenge
FINAL RESULTS 5/12/18
1 Brenner Flaten (Glasgow, MT) / Jason Flaten (West Wendover, NV) 35.68
2 Randy Franco (Billings, MT) / Randy Franco (Billings, MT) 34.46
3 Dan LaPierre (Billings, MT) / Jennifer LaPierre (Billings, MT) 33.26
4 Steve Harris Jr.. (Sidney, MT) / Steve Harris Sr.(Sidney, MT) 28.97
5 George Stuckers Jr. (Sidney, MT) / Geroge Stuckers Sr. (Worden, MT) 28.33
6 Blayze Mikkelson (Shepherd, MT) / Dustin Neely (Shepherd, MT) 28.21
7 Michael Erdman (Billings, MT) / Alexander Kochman (Ballantine, MT) 26.58
8 Dan Achten (Laurel, MT) / Amber Achten (Laurel, MT) 26.43
9 Bobby Wise (Billings, MT) / Robert Wise (Billings, MT) 26.10
10 James Decker (Sidney, MT) / Steve Lowrey (Fairview, MT) 25.75
11 Chris Kolstad (Glasgow, MT) / Willy Lauckner (Nashua, MT) 25.74
12 Rick Davis (Billings, MT) / Bobby Srb (Billinsg, MT) 25.51
13 Gary Cantrell (Billings, MT) / Spencer Cantrell (Billings, MT) 25.31
14 Chad Mueller (Sidney, MT) / Kyle Mueller (Sidney, MT) 24.58
15 Austin Oblander (Billings, MT) / Otis Oblander (Ballantine, MT) 24.57
16 Bobbie Swanson (Billings, MT) / Scott Swanson (Billings, MT) 24.36
17 Robert Petersen (Billings, MT) / Jayson Riggin (Billings, MT) 24.06
18 Kent Hagen (Billings, MT) / Colter Pearson (Billings, MT) 23.89
19 Troy Cotter (Sidney, MT) / Scott Schmidt (Sidney, MT) 23.83
20 Chad Rolison (Laurel, MT) / Jeremiah Johnson (Laurel, MT) 23.77
21 Eric Wolff (Billings, MT) / Jordan Hoagland (Billings, MT) 23.73
22 Jon Stoller (Shepard, MT) / Justin Hauge (Shepard, MT) 23.59
23 Ryan Smith (Billings, MT) / Kevin Van Donsel (Colstrip, MT) 23.56
24 Shane Fuchs (Billings, MT) / Andy Rose (Huntley, MT) 23.46
25 Josh Marottek (Med Lake, MT) / Charles Marottek (Poplar, MT) 23.29
26 34. Brady Burgess (Fort Peck, MT) / Cole Plouffe (Glendive, MT) 22.87
27 7. Cory Bushman (Billings, MT) / Cody Evans (Billings, MT) 22.75
28 16. Cody Veal (Story, MT) / Darin Gagliano (Banner, WY) 21.91
29 42. James Bergeron (Sidney, MT) / Marty Ross (Sidney, MT) 21.87
30 Shawn Weber (Billings, MT) / Kurt Weber (Billings, MT) 21.77
31 Todd Dooley (Sidney, MT) / Becky Lange (Savage, MT) 21.60
32 Will Grundhauser (Billings, MT) / Charles Ferguson (Big Timber, MT) 21.30
33 Doyle Hodgson (Sheridan, WY) / Lance Hodgson (Sheridan, WY) 20.00
34 Rod Seder (Billings, MT) / Rob Seder (Hardin, MT) 18.40
35 Blake Gauer (Park City, MT) / Lindsey Gauer (Park City, MT) 18.16
36 Steve Norcutt (Glasgow, MT) / Allan Harrington (Glasgow, MT) 18.01
37 Levi Walter (Billings, MT) / Dan Walter (Shepherd, MT) 17.10
38 Matthew Bushman (Billings, MT) / Zac Bushman (Billings, MT) 16.81
39 Jeff Kilwein (Billings, MT) / Frank Cook (Billings, MT) 15.41
40 Kevin Zimmerman, (Billings, MT) / Andy Ard (Billings, MT) 13.83
41 Dan Dupea (Billings, MT) / Eli Dupea (Billings, MT) 13.62
42 Andrew Parent (Worden, MT) / Pat Whitmer (Billings, MT) 13.51
43 Bryon Armour (Lewistown, MT) / Ty Thomas (Lewistown, MT) 11.88
44 Donald Curtis (Billings, MT) / Karisa Sullivan (Billings, MT) 8.50
45 Alyssa Vandersloot (Laurel, MT) / Perry Vandersloot (Laurel, MT) 6.59
46 Brett Litle (Billings, MT) / Scott Adamson (Billings, MT) –
47 Paxton Lambrecht (Billings, MT) / Ray Lambrecht (Billings, MT) –
48 Jordan Van Haele (Miles City, MT) / Sam Adams (Miles City, MT) –
49 Joe Mueller (Billings, MT) / Derek Kirkwood (Billings, MT) –
Posted in: Yellowstone Challenge