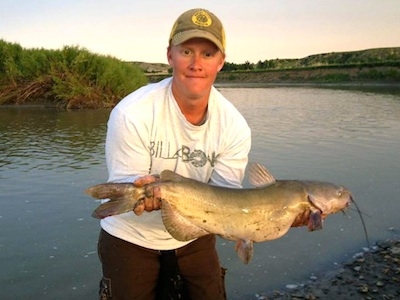 2/26/14 – Every year around this time the catfish crowd starts to get a little restless. It's like clockwork. The calendar flips to March and it doesn't matter if its still 20 below with the wind chill outside, it could just as well be 70 degrees and sunny because the "catfish fever" is in full effect. Some common cures for this type of fever you might ask? Warmer temperatures, longer days, and trip and tackle preparations are just a few ways to start the healing process. It's always a good time to start cleaning the fishing storage at the house or in the garage and do a little gear cleaning and maintenance as well. By taking these steps it's easier to decide what needs to be fixed or purchased for the upcoming open water season. It is also a great time to start scratching off a few summer weekend days for some leisurely fishing with the friends or family. For the avid tournament angler, what better time than to get signed up for anyone of the outstanding events scheduled for 2014 on the Montana Cats Tournament Circuit? For us on staff, March isn't all that bad. March signifies that we are that much closer to catfish season and it won't be long before we see the bend in our rods and the pulling of our drags. When that time comes, the "catfish fever" will have subsided and will be replaced with months of fishing adventures.
2013 was a banner year for the organization. The Montana Catfish Association continues to grow in all facets and this past season was no exception. The first thing that should be mentioned is that we have a new record holder in the state of Montana! Dave Davenport weighed in a 34.8 lb. Channel Cat, measuring 41 3/4″ at the Hell Creek Marina on Fort Peck Reservoir this past July. The absolute MONSTER smashes the previous state record of 30.12 lbs. caught by Jessey Perry on the Missouri River near Fred Robinson Bridge in May of 2009 on a setline. Thankfully, this new version of the state record was caught on rod and reel. Dave was jigging for Walleye with 8 lb. test in Snow Creek when the beast hit. Dave won the battle, and now owns one of Montana's most prized fishing records. Congratulations to Dave from all of us at Montana Cats! We look forward to doing a detailed front-page story with Dave in the near future. I know some of you might be a little bummed that your dream is now a little farther away from ever becoming a reality, but don't give up now. If there is a 34 pounder in Montana waters, who says there isn't a 35 pounder near by? Who knows, you might even be the next one to send a shock wave around the big sky state and take it down once again.
The Montana Catfish Circuit never seems to lack for surprises and 2013 proved it again with records falling left and right throughout the year. It all started in Huntley with the 6th Annual Yellowstone Challenge where Eric Wolff and Jordan Hoagland, both of Billings, MT., claimed the top prize with the second largest basket in tournament history. They prevailed over the largest all-boat catfish tourney field (49 teams) ever held in Montana. In June, the father-son combination of Nate and Jerry Molstad claimed their record 4th Milk River Catfish Classic title. They are the only team to secure more than two titles at any single event on circuit. The Monster Cat Roundup returned to Sidney in July and more records were smashed. Bobby and Robert Wise, both of Billings, earned their first ever circuit title with a dominating performance. The 38.36 lb. basket set a new standard of excellence at the Roundup and set the bar high for years to come. Following the Roundup, anticipation was at an extreme high. This was due to the implementation of the Montana Cats Angler of the Year Award. The Angler of the Year award was instituted to bring extra incentive to those tournament anglers that fish multiple events every year and it did just that in year one. Because of the tight leader board, the angler of the year would undoubtedly be determined at the year ending, Missouri River Catfish Clash. At the Clash, Brady Flaten, of Glasgow, MT., and Nate Molstad, of Havre, MT., would take the championship. In yet another record-breaking performance, Brady and Nate brought 44.09 lbs to the scales. It was Nate's second title of the season and it put Brady in prime position to grab the inaugural angler of the year award. The last team to hit the scales had different ideas, however, as Gage Gordon, of Belgrade, MT., and Mac Reid, of Bozeman. MT. weighed in just enough to squeak into second place at the Clash and move up just in front of Brady to share the first ever Montana Cats Angler of the Year Award.
We promise to continue to improve in all areas within our organization and we are always open for suggestions as the New Year approaches. We want to continue to work with all organizations that might be influential in the sustainability of our prized catfish waters. We intend to continue to educate about the importance of catch and release or selective harvest. Please practice CPR (Catch, Photo, Release) on all your trophy catfish. The Montana Cats Tournament Circuit is literally bursting at the seams with participation, however, we can always use more teams at all of our events and look forward to meeting new faces. Please make sure you keep a close eye on all of the 2014 tournament dates and sign up as you see fit. We are filling up at a record pace. As of press time, this evening, we already have the following team numbers registered for this year: Yellowstone Challenge — 20 paid / will be capped at 50 (boat only). Milk River Catfish Classic – 54 paid / will be capped at 80 (boat and shore). Monster Cat Roundup – 15 paid / will be capped at 60 (boat and shore). Missouri River Catfish Clash – 13 paid / will be capped at 60 (boat and shore). We look forward to seeing you at all of our events in 2014 as well as out on the water! Have fun and keep a tight line.
Posted in: Outlook