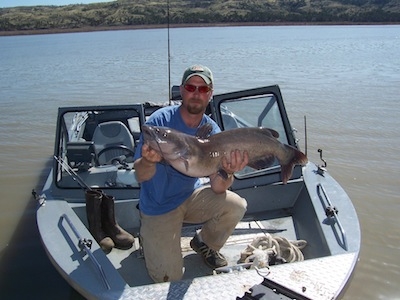 In the sport of catfishing, there is probably only one thing that can compare to the adrenaline rush you receive when landing and releasing a trophy. That one thing is the smell of spring thaw and the thought of open water. Now that March is upon us and the peak of winter has come to pass it is time to start looking forward to the new season. All of us here at Montana Cats cannot wait to get 2013 kicked off with a bang. Before you know it, you will be gripping that rod, smiling, and waiting with nervous anticipation for your first big "thump" of the season. Lets hope that first one, is truly a memorable one, and starts this season off right.
2012 was definitely a season to remember on and off the Montana Cats Tournament Circuit. Off of the circuit, we heard of MANY success stories out on the water. Most of them involved new personal records for anglers, lots of true trophies successfully released, and even a potential state record turned back to the depths of Fort Peck Reservoir. The photo on top of this article depicts Josh Keller, of Havre, with a beautiful 21 lb. 12 oz. cat that he landed on rod and reel on the Missouri River. Congratulations to Josh on that outstanding catch, and thank you very much for your attention to the conservation part of the sport by the successful release of that beauty. Another angler that made news last fall with the release of a big Channel Cat was Bruce Storlie, of Glendive. Bruce's catch graced the front of this website and found a little bit of deserved media attention across the state along the way. While elk hunting in the breaks last September, Bruce landed an estimated 32 lb. cat, him and his friend decided to release the fish after some photos and a small discussion over what the current Montana State Record actually was. The answer: it is 30.12. There is a decent shot that Bruce's trophy would have indeed set a new standard. But no one knows for sure? Bruce, however, is happy that he released the fish anyway and even has the beautiful new fiberglass replica mount to show off his catch for years to come.
On the circuit, there was only one word to describe what took place. Record Breaking! New records were smashed in every possible way and at almost every tournament location along the way. It was truly a season not many anglers will soon forget. No records were broken at the Yellowstone Challenge in May, however, but the 2nd biggest weight in tournament history did hit the scales. Records began to fall in June at the Milk River Catfish Classic in Glasgow. That is where the young dynamite duo of Gage Gordon and McKenzie Reid smashed the tournament and circuit records with over 51 lbs. on five fish and also broke the big fish record for the tournament and circuit with a cat that pushed nearly 18 lbs. In July, catfish circuit veterans Brenner Flaten and Chad Dawson set a new standard at the Monster Cat Roundup in Sidney. Local angler, Lauryn Dempsey, also set the new big fish record at the event. And finally, the circuit came to a close in Williston, North Dakota in mid-August on the Missouri River where yet another record would fall by the way side. Chad Dawson would add another title to his budding catfishing career by teaming up with Lars Sorensen to turn the trick. Steve Harris Sr. topped it all off for good measure with his new record breaking catfish at the event as well.
How can we possibly top all that? There is only one way to try. Lets all get out there and give it our best efforts in 2013. This just might be the year you bring home one of the coveted championships on tour or set a new record that just might stand for ages. It also could be the year that you catch a true trophy, one that is worthy for display for years to come.
All of us here at Montana Cats are amazed at how far we have come as an organization since the launch of this website only seven short years ago, and even more excited about what the future will bring. Catfishing, as a whole, is still in its infancy and with the help of everyone here we will continue to do our part. Lets continue to help this sport grow for the better in anyway we can. This includes educating the young and the old on the importance of "selective harvest" or CPR (Catch, Photo, Release), it also means doing your part to make sure our tournaments continue to fill and run efficiently which in turn only adds legitimacy to our beloved sport, and finally take as many youth fishing as you can this summer and turn them on to the fun that they can have by specifically targeting catfish. Most of you reading this article know that once they start, they'll never stop
Please enjoy the official 2013 Montana Cats Tournament Circuit schedule below. CLICK on a specific event to access this year's entry form. Last year we had a record number of anglers fishing all FOUR of our events, and we truly hope that number will double in 2013. The more teams that commit to fishing at least three events on a yearly basis will help to build those friendly rivalries and friendships that will last a lifetime. See you all on the water!
Posted in: Outlook