Montana Cats 2012 Outlook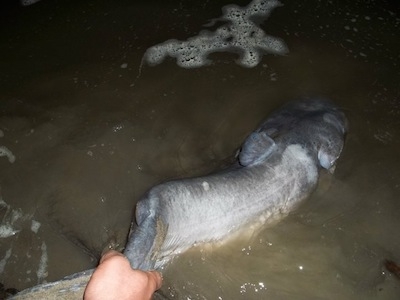 The sun is beginning to peak through in Big Sky Country. That can only mean one thing to all of us here. Its almost catfishing season! For many of us, this open water season cannot arrive fast enough. Due to last years harsh winter season and the record-breaking snowfall it seems as if it's been two years since some of us have hit the water. That winter had a major effect on last seasons warm water fishing. Many of the rivers and streams across Montana, Wyoming, and the Dakotas were nearly unfishable for a lot of the spring and summer months, or at the very least, a precarious situation for many. Those that did brave the conditions, however, were treated to some of the finest catfishing in recent memory. Even the surrounding reservoirs reached all-time peak levels and provided anglers with a new obstacle when targeting their favorite species. The Montana Cats Circuit was also affected greatly. A record setting Yellowstone Challenge beat the rough high water conditions and went off without a hitch last May. The same could not be said for the remaining three events on tour. For the first time in history, Montana Cats was forced to move an event to a later date. The 12th Annual Milk River Catfish Classic faced a "100 year flood" on the Milk River and was forced from its customary 1st weekend in June, and moved to mid July. The tournament did not disappoint, however, despite the change of plans as the 2nd greatest weight in tournament history hit the scales. The Monster Cat Roundup, held in Sidney in July and the Inaugural Missouri River Catfish Clash held in August, out of Williston, ND, were both held in flood conditions, but the catfish didn't seem to mind as new tournament records were achieved and the bars were raised high for future years to come. Outside of the tournament scene, positive fishing reports came from every direction as late summer and fall gave way to more stable river conditions. One body of water in general, the Milk River, seen three cats of greater than fifteen pounds pulled from its depths. This is unheard of for the modern day Mighty Milk. All three genuine trophies were released to fight another day. Fort Peck Reservoir and the Yellowstone River also boasted numerous large fish in the summer of 2011.
A much more mild winter this year should provide more stable river conditions leading into this season. Many of your favorite spots or "honey holes" might finally be dry once again. Or who knows, they could be changed forever. That is all part of the excitement heading into this spring. Many of us are unaware of the changes in the river channels and along the banks that undoubtedly come with record flooding conditions. The next "greatest spot" could very well be hidden around that next bend. It is fair to say a lot of us will be heading into uncharted waters in 2012, despite the fact you might have been fishing that same section for well over twenty years. This years Montana Cats tournament circuit has a lot to live up to. Avid anglers have honed their skills and set the marks high at all four annual events as we wait to see what is in store for this season. Sticking with tradition, this year's tour will get kicked off on the second weekend of May, in Huntley for the 6th Annual Yellowstone Challenge. The 13th Annual Milk River Catfish Classic will follow in its footsteps. The "Grand Daddy" will once again take place on the first weekend in June up in Glasgow, MT. The 4th Annual Monster Cat Roundup, held out of Sidney, will kick into high gear in July. Rounding out the 2012 season will be the trek to North Dakota once again. The 2nd Annual Missouri River Catfish Clash is expected to explode in year number two. Don't miss out on any of these action-packed weekends. Start filling that calendar in and make it a point to come and enjoy all of the great people that accompany the Montana Cats Circuit. Enjoy the tournament schedule below. Click on the tournament names below to download the entry forms and join in on all the fun. We hope to see every one of you out on the water in 2012. Lets have a great spring and happy catfishing everyone!
Posted in: Outlook