Montana Cats 2011 Outlook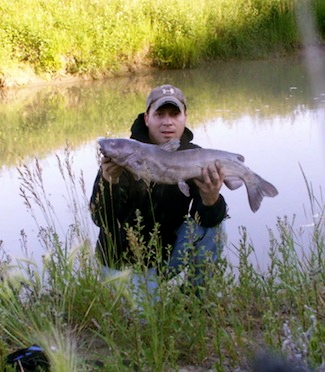 Living in Montana, Wyoming, or the Dakotas can be a frustrating experience for the open water angler. Our time on the water is often limited to seven months, followed by a long hard winter filled with only thoughts of big fish and late night camping adventures. Thankfully, the time has officially arrived! With the weather warming and ice beginning to break on our rivers and reservoirs across the region it is time to get excited and gear up for another catfishing season. As accustomed at Montana Cats, the yearly preview article is intended to serve one sole purpose. We want to put spring fishing on your brain! Late March and into early April can be the most overlooked catfish bight in our area, it will provide some of the biggest catfish you will see the entire year. If there is a time to grab a lawn chair or throw an anchor and just sit, this could be your time. Go out and find that hot spot, that wintering location, where the cats are plentiful. Chances are the channel cats haven't begun their early season transition, and there is a good shot that their strapping on the feedbag. Whether you are a river or a reservoir angler there is ample opportunity for you this spring. It's up to you to seize that opportunity. Is it time for the second thirty-pound Channel Cat to come out of Montana waters? Can you break your personal record and hook into one that is worthy of "hanging on the wall"? Get out there and enjoy the great outdoors, then swing in and share your adventure and the fishing story with all of us here at Montana Cats.
With a new fishing season also brings a new tournament season! Like so many of us, if you share a love for fishing and an interest in competition, then the Montana Cats Tournament Circuit is for you. 2011 will provide a slight makeover from the previous seasons on tour. The season will once again open up in Huntley, MT with the annual Yellowstone Challenge, however some changes have taken place. This years event will be bumped up to the first weekend in May, it will be Montana Cats first "boat only" tournament, and it will be scaled back to a fifty team limit. The second stop on tour will be the 12th Annual Milk River Catfish Classic in Glasgow, MT and will take place on the first weekend in June. This year's biggest change is the addition of our first North Dakota event. The Inaugural Missouri River Catfish Clash will be held out of Williston, ND and will be replacing the Bighorn Catfish tournament. It will be held annually on the third weekend in June. The final stop on tour will bring you back to Eastern Montana, to Sidney, for the 3rd Annual Monster Cat Roundup. Moving back to its traditional second weekend in July, the Roundup should be a blast this season and a great culminating event for the association. Enjoy the tournament schedule below. Click on the tournament names below to download the entry forms and join in on all the fun. We hope to see every one of you out on the water in 2011!
Posted in: Outlook