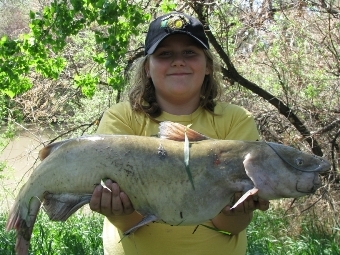 3/3/10- March has finally arrived and we all know what that means. Yes, Montana Cats has awaken from its annual winter hibernation. Now that the string of cold months has passed, we only have one thing on our minds, CATFISHING!! Is this the year you set a new personal best? Maybe it's your turn to win a Montana Cats tour event or break that magical 20 lb. mark? Most of us would just settle for a little more time enjoying the great outdoors.
2009 was another breakthrough year for the Montana Catfish Association. The debut of the Montana Cats Tournament Circuit (a four-tournament shootout) ,was a success on all levels, thanks to the continued work of the dedicated field staff and many other volunteers. The tournaments set records in participation across the board. Catfishing popularity continues to boom across the Midwestern United States and we are proud to play a role in that.
You can expect many changes in 2010. We are adding a 5th tournament to the already popular Montana Cats Tournament Circuit. There are three tournament opportunities in Montana and two in Northern Wyoming. The website will expand to include even more interviews, pictures, and videos from each tour event. It's our goal to enhance your overall "online catfishing experience". Keep your eyes peeled for even more in-depth front-page articles from our field staff, as well as raw and un-cut fishing footage throughout the entire open water season.
A couple of major changes will hit the tour in 2010. The Milk River Catfish Classic will expand to 80 teams for the first time, in what promises to be an unbelievable event. The 2nd Annual Monster Cat Roundup will raise its entry fee to $60 to provide anglers another opportunity to cash in on an even greater prize. See tournament entry forms for further details. The Glendo NightCat will join the tour, as the second Night-time tournament. The tournament season will kick off in Huntley, MT on May, 8th with the annual Yellowstone Challenge. We hope to see you all there. Below you will find the complete 2010 schedule. If you have any questions please join post them on the message board. Please click on the links below to access the tournament entry forms.
Posted in: Outlook