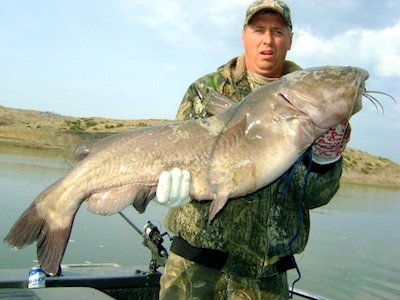 For the past 27 years, Bruce Storlie of Glendive, MT., has been hunting elk on the Charles M. Russell National Wildlife Refuge far west of the Crooked Creek recreation area on Fort Peck Reservoir. He has made it a habit of chasing big game during the morning, while chasing cats all afternoon. This year, however, would turn out to be unlike any of the previous 26 years. At 11:00 a.m. on September 26th, while fishing with his hunting partner and brother, Mike Storlie, Bruce set the hook on a massive fish. Bruce remembered joking with his brother at the time of the initial fight, "I think I got the new state record catfish here." Bruce knew it was big; after all they had caught catfish up to 18 lbs. on previous hunting trips to the area. But this was something bigger and much stronger than ever before. Fishing with only 10 lb. monofilament and his reel nearly out of line all together, Bruce decided to step out of the boat that was wedged near the shore and start walking after the fish with fear that it might just snap him off. After walking an estimated 3/4 of a mile and battling him for nearly a half hour, Bruce was finally able to wrestle the behemoth to shore.
Taking his time to catch his breath, the two immediately knew it was the biggest catfish they had ever seen. Conversation shifted to getting the beast on a scale right away and find out just what they were dealing with. Bruce had a 28 lb. Deliar spring scale on hand, so they put the fish on it and it immediately bottomed it out. The brothers had another 8 lb. Deliar and worked feverishly to try and rig something up using both scales in order to get a more accurate weight but to no avail. They did however, have a tape measure available, and measured the length at an incredible 40″, with a 25″ girth. They both came to the conclusion that the fish was more than likely in the 32 lb. range. Recalling previous conversations had with other anglers and friends, Bruce was quite sure the current Montana State record was 32 lbs. Mike agreed.
Knowing that they were hours away from a certified scale and a biologist to confirm the catch, the brothers decided on releasing the trophy cat. Before the release they wanted to make sure they had their proof. Most importantly to them was getting some great pictures taken, next was making sure all of those measurements were accurate before the release. Bruce was concerned about the health of a fish that was most likely over thirty years old and felt it would likely lose some weight on the trip to the scales as well. He had been catfishing his whole life and has always prided himself as a catch and release type of guy. He admits if he had known the record was 30.12 lbs. and not 32 lbs., he might have acted differently. However, he said his intent would still have been to keep the fish alive for a healthy release. "If I knew that the actual state record weight was 30.12, I probably would have put him in the live well and headed the 30 miles to Crooked Creek and met someone there." "I also had a big enough cooler with ice that we pack along for our elk, so I could have very easily placed him in there for a trip back to civilization, but I was more concerned with keeping the fish swimming." "I released him and he took off for the depths right away, we even spent a few minutes watching over the area to make sure he didn't resurface."
Reflecting on that memorable fall day brings a smile to Bruce's face every time. The fact that he was specifically targeting large catfish, while taking some time off from his elk hunt, makes it even more gratifying. He noted that he used fresh cut Goldeye for bait and set-up on his old 21-foot "honey hole" where they had experienced some success in the past. As mentioned earlier, the brothers had caught cats up to 18 lbs. previously in the area. As if they needed any other proof of a successful trip, they also were able to land a 15 lb. Channel Cat the day before Bruce beached the beast. Bruce mentioned that they released all of the catfish from the trip that week just like they do every year. "We release all the cats we catch, even those three to four pounders that are the best eating get returned to the water on my boat."
Bruce has already made plans to make sure this is a memory that he will never forget. Following the trip, he returned to his hometown of Glendive, Montana and began researching fiberglass replica catfish mounts. Replica mounts are becoming the new age in taxidermy. Catfish are known to be very difficult for a taxidermist to replicate and the skin typically has a shelf life of only 10 to 15 years. Because of this, along with many anglers being more concerned with the safe release of their trophy catfish, the replica mounts have become the preferred route when choosing to display a trophy in your own home. He settled on americanfishtaxidermy.com because of their specialization and recent success replicating trophy catfish. This company most notably recently completed a replica mount of the new Virginia state record blue catfish. They are also the preferred company for the majority of trophy catfish anglers throughout the state of Iowa. Bruce expects it to turn out great. "We took great pictures, got accurate measurements, and the fish also had a "dead" or injured right eye. So all of those unique things should lead to a real specific replica mount for the wall."
Montana Cats would like to salute Mr. Bruce Storlie on a once in a lifetime catch. He handled the health of a fish that is sure to have been over 30 years old in an exemplary manner. Not only has he proved that catch and release with photos can provide all the proof you really need, he has also brought replica mounting to the forefront. If you are out on the water in the next few years and catch a monster, try photos from all angles, accurate measurements, and a smooth healthy release. The nice thing about a replica mount is you can take your time and pull the trigger on it when you feel comfortable making that investment. Unlike a skin mount that work best when done immediately to avoid freezer damage and other concerns, your pictures will not fade and the measurements you took will not change, and the replica taxidermist can carefully construct your fish even five to ten years after your actual catch.
Posted in: Strategy