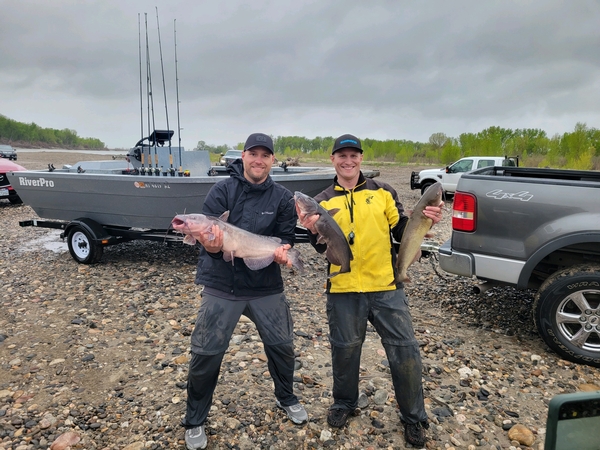 5/13/23, Huntley, MT- The Yellowstone River is the longest free flowing river in the lower 48. In it's most Western reaches it boasts trophy class trout. The further east it meanders, the water temperature rises. The combination of rising water temps, plentiful forage fish and attractive underwater structure transforms the Yellowstone from a Trout haven, into one of the finest Channel Catfish destinations in the region. The primary Channel Catfish populations in the Yellowstone span from the confluence near Williston, ND to as far West as Huntley, MT. The western boundary of this long free flowing beauty is where the Yellowstone Challenge Catfish tournament has taken place the past 17 years, the second Saturday in May.
The tournament weekend kicked off on Friday evening at the top-notch venue Rhoadeside Event Center in Huntley. As the anglers rolled in for the evening festivities, word started to spread about the difficult pre-fishing conditions and uncertain outcomes tomorrow may bring. Water levels were once again unstable, due to spring rains throughout the region. On top of that, one of the many challenges posed by the mighty Yellowstone, is it's changing river bed year in and year out. Mountain runoff creates drastic swings in current each spring, causing high bank side erosion, new river channels, changing holes and freshly carved side channels just to name a few. In short, a "prime" spot the spring before, could be high and dry this year. The old saying about "fishing memories" has doomed many a veteran tourney angler. Combine the annual changing river structure, with the typical cold front with scattered showers and we had another unique and challenging day on the water for the sold-out field of elite Cat anglers.
The difficult conditions, surprisingly, were no match for strongest field of anglers in the history of the tournament. Nearly half the tourney field boasted over a 4 lb average and 20 lb five fish limit. The top 20 was littered with tourney vets, with a number of rookies sprinkled in. The top 5, however, was locked solid with return customers. Long time anglers, first time partners Jon Stoller (Shepherd, MT) and Ray Lambrecht (Billings, MT) were just shy of the 30 lb. mark, which was good enough for 5th place. Ray had long been partnered with his son Paxton for this event but Ray explained "yeah, he ditched me for a new partner this year (his wife). But it all worked out", he said with a chuckle. Local anglers Jeremy Johnson (Worden,, MT) and Doug Enderson (Billings, MT) hauled in a whopping 31.08 lbs of Yellowstone kitties, good enough for 4th place. The Johnson/Enderson duo had a couple top 25 finishes to their name in the past but this weekend marked a perfect storm for their first top 5 finish.
Catapulting up the leader board and landing in 3rd place, was last years runners-up team of George Stuckers (Sidney, MT) / Kyle Knight (Worden, MT) compiling a basket of 31.10 lbs. "It was important for us to go out and do this today. To prove to ourselves that last year wasn't a fluke", explained Knight. Stuckers added "My hat's off to all the teams that went out there today, braved the conditions and competed to the end. It was tough out there". Last year's Co-Angler of the Year Award winners and 2021 Yellowstone Challenge Champs Eric Braunberger (Miles City, MT) and Eddie White (Forsyth, MT) brought in a healthy basket, tipping the scales at 31.68 lbs. That weight was good enough for 2nd place and a great start to the year. "We fished hard all day and never stopped. 15-20 minutes at a time".
When the dust finally settled, a familiar team came out on top. The brother combo of Brenner Flaten (Glasgow, MT) and Jason Flaten (Elko, NV) re-united to claim the top prize, with a new tournament record 38.58 lbs. With just over a couple hours left in the tournament they explained "we needed one more kicker fish". Well, they got one. Jason was able to hook into a NEW tournament record 14.25 lb. Yellowstone monster to close the deal. After a one-year absence from the event in 22' for Jason, the duo was able to complete a bit of redemption. The 2021 event was "without a doubt my worst ever", Jason explained at the time. Jason contemplated at the end "at times I wonder if we are too focused on numbers. Trying to fish fast and put as many fish in the boat as possible. Well, it paid off today". They were able to bounce back in a huge way this weekend, lapping the field by nearly 7 lbs. This also marks the third time this duo has been crowned champion of this event, landing the top prize in 2018 and 2020.
The Yellowstone Challenge and Montana Cats would like to thank the following sponsors for helping make this tournament possible: Rhoadeside Event Center, Briggs Distributing, B'n'M Poles, Enduro Products, Marathon Petroleum Corporation, RS Jet Boat Anchors, Shelly George w/ Thrivent Financial and Easy Clips Culling System.
The Montana Catfish Association is a NON-PROFIT organization that runs this tournament and others around the state to help promote Channel Catfish in Montana and local communities. All of our tournaments are OVER 100% payback. That means 100% CASH payback from entries and thousands of dollars in additional prizes. We're in it for the fishermen, local communities and Channel Catfish. If you check out the tournament rosters, you'll notice a distinct "family" feel to it. We love the friendly competition and comradery these events provide. Lifelong friendships have and will continue to develop as a result. Thank you SO much to everyone that participates in our events to make us one of THE most successful Catfish circuits in the NATION!
If you haven't checked us out online, please take the opportunity to do so @ montanacats.com. Stay connected to us on social media outlets Facebook, twitter and our message board. Also, please sign up for our email list to stay better informed on ALL the happenings with Montana Cats year-round.
Two of our Montana Cats events; the Missouri River Catfish Clash in Williston, ND and Monster Cat Roundup in Sidney still have openings. Take this opportunity to sign up now before it's too late. Remember, we are offering a $1,000 CASH PRIZE for Montana Cats Angler of the Year for the 23' season. Hope to see everyone in Glasgow for the second leg of the Montana Catfish Association tour at the Milk River Catfish Classic on June 3rd.
Posted in: Yellowstone Challenge