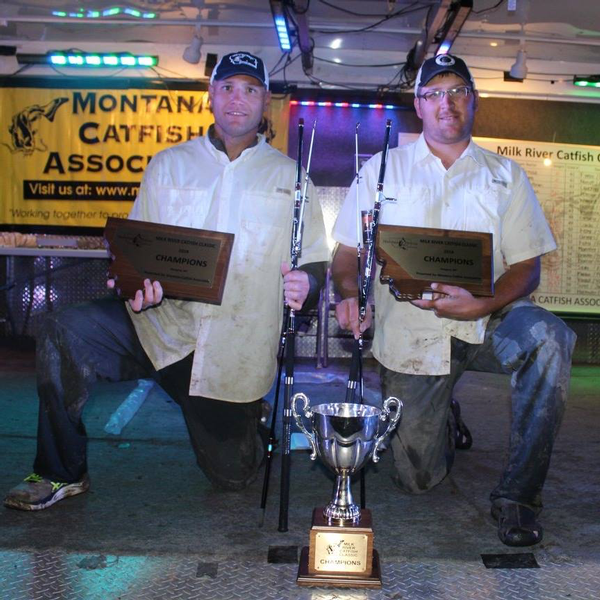 6/2/18 (Glasgow, MT) – Big Fish. The 19th Annual Milk River Catfish Classic will be remembered for two words. Big Fish. For the first time in Montana Cats Circuit history, six (6) cats were weighed in over 10 lbs. in a single event. 14 year old, Jake Kuka, led the way with his 12.26 lb. pig, his award winning "Jumbo Whiskers" is the 4th largest in Classic history. Montana Cats Circuit veteran, Bobby Wise of Billings, added an 11.6 lb. kitty. The catch earned him the "Big Whiskers" award for the 2nd largest of the evening. One other 11+ lb. cat was landed to go along with three other 10+ pounders. Simply unbelievable.
After 15 years of including tributary creeks within the tournament boundaries; 2018 marked the first time since 2003 that the Cat Classic was contested solely on the banks of the main river channel. The change aligned the event with the rest of the Montana Cats Circuit and energized an 80-team field that was interested to see if they could now knock off some of the traditional powers. At the same time, the year marked an about face for many of the veteran 2-man teams as they returned to more traditional locations and the majority of the field set up shop "below" the dam. A challenge that every team must contend with on a year to year basis is the decision to fish above or below Vandalia Dam. This year's version of the Cat Classic will always be remembered as the year the bottom section produced much like the "upper" section has in recent years.
Jason Flaten, of West Wendover, NV., and Cole Plouffe, of Glendive, MT., returned to the winner's circle with an impressive 33.3 lb. basket. The Glasgow Native's used a run and gun approach to secure the victory by just over one pound. It is Flaten's 3rd Catfish Classic title and his 1st since winning the 2nd of Back to Back titles in 2004. Plouffe also added to his Milk River legacy winning his 2nd title. Plouffe claimed a championship in 2006 as a High School Sophomore. When asked about the key to victory on stage, Flaten quipped, "We went old school on them…we returned to a handful of spots we used to fish a long time ago, and the fish were still there." Even more impressive for Flaten, is it marks his 2nd title in a row on the 2018 MT Cats Circuit, following a victory at the Yellowstone Challenge in Huntley last month.
Flaten and Plouffe weighed in late, but there was still one team to follow at the famous "midnight weigh-ins". They took their rightful place in the "hot seats" and awaited the approach of fellow Milk River Rats, Willy Lauckner and Chris Kolstad. There was a lot of anticipation in the air and it was a moment that defines just how great these events really are. Lauckner and Kolstad stood in front of the large LED screen as they watched their weight jump up over 30 lbs….only to fall just short at 32.03 lbs. The anglers came oh so close to their 1st Classic titles, but there was no shortage of respect on the stage as all four hugged it out. It marked the sixth straight top 20 Classic finish for Lauckner and Kolstad and a 3rd time in the Top 5. Impressive indeed.
Boosted by the "Jumbo Whiskers", the Grandson-Grandfather team of Jake Kuka and Karl Krause rounded out the Top 3 at 28.29 lbs. With an ear to ear smile, Jake's face said it all. They spent over 15 minutes in the hot seats and experienced a night together that they will never forget. Of special note, was the 4th place finish of Scott and Aidan Redstone. As if their wight of 27.43 lbs. was not impressive enough, the father-son team did it on only FOUR fish! One more six lb. fish and the team is likely walking away with the championship. Nonetheless a simply incredible four fish basket.
Looking back on the long weekend it was just as memorable as any of the previous years. Great people, great community, great entertainment, and an all around great time. The Montana Catfish Association cannot stress how thankful they are for the landowners of Valley County for the continued fishing access and the community of Glasgow for their hospitality during the week leading up to the Classic. As with any event, you are only as strong as your "support". Montana Cats serves up a BIG thank you to the following Catfish Classic supporters; Nemont Beverage Corporation (Busch Light), Sarah Swanson, Shelly George with Thrivent Financial, Montana Bar, Newton Motors, Ag Land Co-op, Cat River Anchors, Whisker Seeker Tackle, B'n'M Poles, RS Jet Boat Anchors, D&G Sports and Western, Shelly George Photography, Markle's Hardware, Auzzy's Auction and Cook Shack, Scottie Nation Apparel, Thompson and Sons, Hi-Line Sportsmen, Glasgow Recreation Department, City of Glasgow. NemontTV, and KLTZ.
Thank you to River North for the Friday night Front Street entertainment and ALL of our 2018 volunteers including; Rocky Thompson, Kelly Dean, Elissa Erickson, Ryan Feezell, Ross Kastet, Kari Kastet, Kirk Boyer, Garrett Morken, Dave Flaten, Alison Flaten, and Kim George.
We now gear up for the 3rd leg of the 2018 Montana Cats Circuit. Please join us on the Yellowstone River in Sidney on July 21st for the 10th Annual Monster Cat Roundup! In the mean time, don't forget to mark your calendars for a historic Cat Classic in 2019. June 1st, 2019 will mark the 20th Annual event! We are planning an extra special showcase and you will NOT want to miss it. Until next year Cat Classic fans. Happy Cattin!!
19th Annual Milk River Catfish Classic
FINAL RESULTS 6/2/18
1. Jason Flaten, West Wendover, NV., Cole Plouffe, Glendive, MT. 33.30
2. Willy Lauckner, Nashua, MT., Chris Kolstad, Glasgow, MT. 32.03
3. Karl Krause, Glasgow, MT., Jake Kuka, Glasgow, MT. 28.29
4. Scott Redstone, Glasgow, MT., Aidan Redstone, Glasgow, MT. 27.43
5. Bryon Armour, Lewistown, MT., Ty Thomas, Lewistown, MT. 26.41
6. Brady Flaten, Glasgow, MT., Jason Molstad, Glasgow, MT. 25.90
7. Casey Riggin, Glasgow, MT., Jessica Pennington, Glasgow, MT. 25.22
8. Jeff Irving, Bozeman, MT., Dylan Hughes, Glasgow, MT. 23.95
9. Bobby Wise, Billings, MT., Robert Wise, Billings, MT. 22.95
10. Jerry Molstad, Miles City, MT., Nate Molstad, Havre, MT. 22.42
11. Joel Smith, Glasgow, MT., Marc Kloker, Glasgow, MT. 21.50
12. Dave George, Glasgow, MT., Candy Lagerquist, Glasgow, MT. 20.17
13. Mitch Mcintyre, Glasgow, MT., Jim McIntyre, Glasgow, MT. 20.03
14. Tyler George, Sheridan, WY., Ryan George, Joliet, MT. 19.82
15. Callahan Belling, Richland, MT., JD Bailey, Opheim, MT. 19.45
16. Shawn Hopstad, Glasgow, MT., Zach Miller, Glasgow, MT. 19.40
17. David Nixdorf, Glasgow, MT., Carter Pederson, Glasgow, MT. 18.83
18. Ed Sugg, Hinsdale, MT., Storm Jackson, Glasgow, MT. 18.37
19. Cody Stensland, Fairview, MT., George Stuckers, Sidney, MT. 18.25
20. Timm Canen, Miles City, MT., Aimee Kloeckner, Glasgow, MT. 17.95
21. Bo Boreson, Perrysville, IN., Vance Anderson, Glasgow, MT. 17.62
22. Chad Dawson, Dickinson, ND., Brady Burgess, Glasgow, MT. 16.95
23. Kevin Howie, Billings, MT., Travis Kennedy, Billings, MT. 15.91
24. Tara Harrington, Glasgow, MT., Allan Harrington, Glasgow, MT. 15.87
25. Steve Harris Sr., Sidney, MT., Quinten Nelson, Sidney, MT. 15.84
26. Blake Gauer, Park City, MT., Lindsey Gauer, Park City, MT. 15.36
27. Steve Lowrey, Fairview, MT., James Decker, Sidney, MT. 15.30
28. Norm Braaten, Fort Peck, MT., Dustin Braaten, Fort Peck, MT. 15.27
29. James Bergeron, Sidney, MT., Marty Ross, Sidney, MT. 15.20
30. Seth Combs, Beulah, ND., Mark Combs, Glasgow, MT. 14.53
31. Darci Shipman, Glasgow, MT., Curtis Shipman, Glasgow, MT. 14.07
32. Jesse Nickels, Nashua, MT., Jessica Nickels, Nashua, MT. 13.53
33. Robert Peterson, Billings, MT., Jaysen Riggin, Billings, MT. 13.29
34. Jacob Aune, Glasgow, MT., Shawn Wersal, Glasgow, MT. 13.05
35. Josh Moore, Sidney, MT., Hailee Moore, Sidney, MT. 12.71
36. Mike Zoanni, Glasgow, MT., Nate Doornek, Glasgow, MT. 12.02
37. Nate Meiers, Billings, MT., Duane Meiers, Billings, MT. 11.92
38. Steve Norcutt, Glasgow, MT., Brien Norcutt, Glasgow, MT. 11.67
39. Courtney Gagne, Dickinson, ND., McKenna Gagne, Glasgow, MT. 11.63
40. Jeremiah Johnson, Laurel, MT., Scott Swanson, Billings, MT. 11.63
41. Blaine Berg, Glendive, MT., Damen Scherting, Glendive, MT. 11.34
42. Troy Vandall, Glasgow, MT., Tristin Vandall, Glasgow, MT. 11.18
43. Spencer Marsh, Glasgow, MT., Caleb Lagree, Glasgow, MT. 11.15
44. John Grimes, Nashua, MT., Coel Stutheit, Glasgow, MT. 11.13
45. Brodie Boreson, Hinsdale, MT., Lindsey Boreson, Hinsdale, MT. 11.10
46. Steve Harris Jr., Sidney, MT., Nick Fortier, Billings, MT. 10.94
47. Colton Hill, Dickinson, ND., Wyatt Pedersen, Glasgow, MT. 10.56
48. Brien Gault, Glasgow, MT., Autumn Gault, Glasgow, MT. 10.41
49. Cody King, Minot, ND., Casey King, Glasgow, MT. 10.17
50. Josh Marottek, Medicine Lake, MT., Drew Henry, Glasgow, MT. 10.02
51. Brenden Waarvik, Billings, MT., DJ Elletson, Glasgow, MT. 8.88
52. Cody Kuka, Glasgow, MT., Katie Anderson, Glasgow, MT. 8.63
53. Kyle Gibson, Glasgow, MT., Trevin Gibson, Glasgow, MT. 8.12
54. Tori Gagne, Glasgow, MT., Shannon Ost, Glasgow, MT. 7.35
55. Larry Hockhalter, Glasgow, MT., Dale Borgan, Glasgow, MT. 6.86
56. Robert Kemp, Glasgow, MT., Jodi Schock, Glasgow, MT. 6.61
57. Spencer Gay, Glendive, MT., Pat Gay, Billings, MT. 4.89
58. Mike Meredith, Nashua, MT., Stone Tahista, Nashua, MT. 4.77
59. Craig Compton, Mount Ulla, NC., Quinton Compton, Glasgow, MT. 4.75
60. Crystal Boreson, Perrysville, IN., Katie Clausen, Lambert, MT. 4.52
61. Kobe Sibley, Glasgow, MT., Trevor Klind, Glasgow, MT. 4.47
62. Jeff Unterseher, Glendive, MT., Ben Unterseher, Glasgow, MT. 3.99
63. Paul Pasley, Bigfork, MT., Michael Williams, Havre, MT. 3.20
64. James Schultz, Cambridge, NE., Hunter Schultz, Fort Peck, MT. 2.83
65. Paul Provencher, Glasgow, MT., Wayne Linder, Glasgow, MT. 2.20
66. Rob Seder, Hardin, MT., Rod Seder, Billings, MT. 1.24
67. Derek Mahlum, Great Falls, MT., Aaron Wittmer, Havre, MT. 0.99
68. Doug Mahlum, Great Falls, MT., Kane Mahlum, Great Falls, MT. 0.63
69. Bob Harrington, Glasgow, MT., Kat Geer, Glasgow, MT. 0.00
Melissa Sigmundstad , Glasgow, MT., Briana Lee Page, Glasgow, MT. 0.00
Paul Moore, Hinsdale, MT., Jennifer Moore, Hinsdale, MT. 0.00
Tyler Johnson, Nashua, MT., Zach Watts, Nashua, MT. 0.00
Kelcey Arnold, Hinsdale, MT., Jake Knaff, Hinsdale, MT. 0.00
Justin King, Sidney, MT., Tony Maurer, Sidney, MT. 0.00
James Prevost, Fort Peck, MT., Bryce Kauffman, Glasgow, MT. 0.00
David Irving, Glasgow, MT., Rod Ost, Glasgow, MT. 0.00
Matt Bushman, Billings, MT., Corey Bushman, Billings, MT. 0.00
Dan Achten, Laurel, MT., Amber Achten, Laurel, MT. 0.00
Derek Carda, Sidney, MT., Adam Smith, Sidney, MT. 0.00
80. Luke Morehouse, Glasgow, MT., Nathan Hopstad, Glasgow, MT. 0.00
Posted in: Milk River Catfish Classic