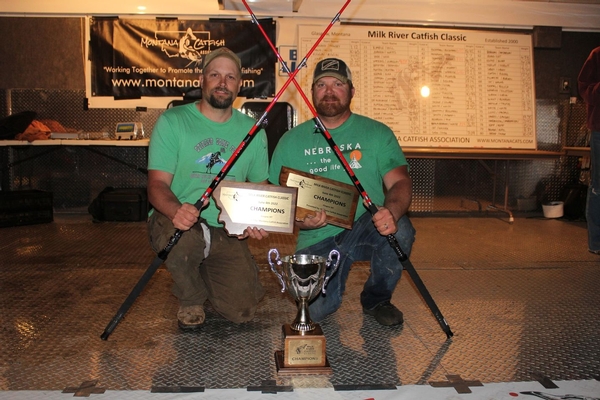 Glasgow, MT 6/4/22 - Low water. That was the theme for this year's version of the Milk River Catfish Classic. How would the fishermen adapt? Would fishing become increasingly difficult? Would teams still find a way to put together impressive baskets of fish? Yes, fishing proved to be very difficult on an otherwise beautiful evening, however, many teams adapted and simply found a way. Eighty teams brought 276 cats to the scales at the famous midnight weigh-ins in downtown Glasgow. Forty two teams caught their limit of five Channel Cats, but at the end of the night only five teams would bring in over 20 lbs. Those numbers, unfortunately, bore a stark resemblance to the low water years of the early 2000's.

James Watkins, of Hubbard, Nebraska, and another Nebraska native, Ryan Johnson, of Glasgow brought a little Cornhusker flavor to this year's Cat Classic as they captured the crown with an impressive basket of 33.07 lbs! The two had talked of returning to a location where they had finished the tournament the previous year and caught a big fish. That strategy proved fruitful as they were able to sit in one spot all night and put together a limit of five cats averaging just over 6.5 lbs. That is a great day on a small river on any given year. James remarked, "I drove 745 miles to come here and do this, so it was a lot of fun!". Their limit of five also included this year's Jumbo Whiskers, an award given to the largest catfish caught in the tourney. This year's Jumbo Whiskers was a 9.07 lb. Channel Cat.
That beauty of a fish proved to be just enough to hold off a hard-charging Dan and Amber Achten of Laurel. Team "Achten a Fool" got into a mess of fish late and made a run at this year's tournament championship. "Net Man Dan" had this to stay to say to a massive midnight weigh-in crowd. "We didn't have a bite until 8:45 PM, from 8:45 on we were busy non-stop. When that sun went down it was chaos in our boat.". The Achten's weighed in at 30.26 lbs. and took home a cool $3,060 for their efforts as they not only claimed the runner-up spot, but they were also victorious in Saturday evening's "side pot" option. Congratulations!
3rd place went to a pair of veteran savvy anglers in Eddie White and Eric Braunberger out of Miles City. The two only boated eight cats on the evening, but they proved to be the right ones. Their five best tipped the scales at 26.72 lbs. and was worth $1,000 and some hardware for the wall. Eddie recalled, "We caught our two biggest fish right away, and then we struggled for four hours, and we sat baited and waited in one hole".
4th Place went to local anglers, Jake Aune and Shawn Wersal. This is the 2nd time in the top four for the Glasgow duo after previously finishing 3rd in 2014. It is the 5th Top 20 finish in the Classic for the veteran teammates as they continue to inch closer to an opportunity at the championship in future years.

Rounding out the Top five and the last team to crack 20 lbs. on the evening was another local team in Allan and Tara Harrington. The Harrington's got it done on an evening where many of the tournament's historically strong teams struggled. It is the fourth time in the Top 10 and the 6th time in the Top 20 for this accomplished mother-son duo.

Despite the relatively difficult fishing; everyone left the event already looking forward to next year. At this point the Catfish Classic has somewhat of a cult following among anglers and it's fans and we are expecting to fill again next January in a matter of hours. The Glasgow Area Chamber's Milk River Catfish Days festivities has only added to an unbelievable weekend over the last 4 years. This year's Catfish Days included; The Friday night Live Band, Calcutta and Street Dance. On Saturday it featured the Catfish Crawl, Adult and Youth Cornhole Tournaments, Dart Tournament, School's Out Carnival, Car Show, Food trucks, vendors, Crazy Days sales, and so much more! If you haven't experienced Milk River Catfish days as a family, please mark June 2nd-3rd, 2023 on your calendars because it is going to be a memorable one! The weekend will feature the 5th Annual Milk River Catfish Days and will be highlighted by the 24th Annual Catfish Classic.

The Montana Cats tour will continue next month in Sidney with the 14th Annual Monster Cat Roundup on Saturday July, 16th. This year's Angler of the Year race is HEATING up and it is anyone's ballgame at this point. Come join us for a fun-filled day on the beautiful Yellowstone River.

The Montana Catfish Association and the Catfish Classic staff would like to thank this year's tournament sponsors: Nemont Beverage Corporation (Busch Light), Glasgow TBID, D&G Sports, Montana Bar, Shelly George w/Thrivent Financial, Hi-Line Sportsmen, Enduro Products, Marathon Oil, Montucky Cold Snacks, Easy Clips Culling System, RS Jet Boat Anchors, and BnM Poles. We couldn't make these events a reality without your continued support! THANK YOU.
Posted in: Milk River Catfish Classic