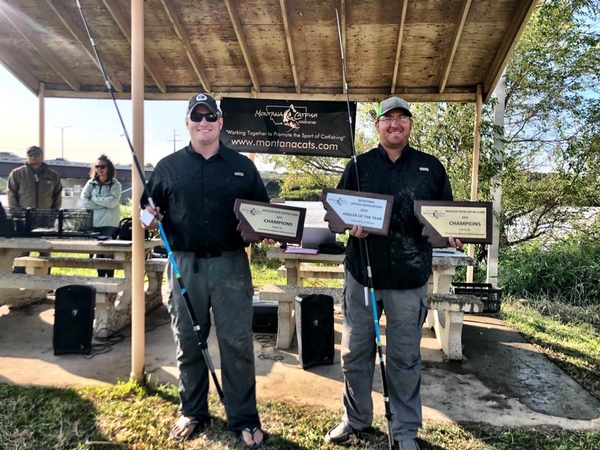 8/17/2019 (Williston, ND) – It is no longer a secret. Since 2011, the Missouri Catfish Clash has given local anglers a chance to consistently battle with BIG Channel Cats. Tournament boundaries stretch from the confluence of the Yellowstone and Missouri River in far western North Dakota and heads east to the western reaches of Lake Sakakawea. This stretch of the Mighty Missouri River offers fisherman a chance at a trophy nearly every time their baits hit the water. It's a given every single year for the tournament champions to have a basket with over a 7+ lb. average and it's no surprise that the event is one of our most popular on tour.
This year the event had 53 boats, up 13 from 2018, as anglers from Montana, North Dakota, and Wisconsin battled on a cool, wet unseasonable day in Williston. Many of the tournament fisherman were on the water pre-fishing on Friday and enjoyed sunny skies and upper 80 degree temperatures. Saturday featured a sudden drop in temps with highs in the low 60's and scattered showers throughout the entire tournament hours. The Catfish didn't seem to mind, however, as TWENTY FOUR teams brought 20+ lbs. to the scales. The twenty four teams with 20+ lbs. is a NEW tournament record for the Clash. The top four teams were especially impressive all weighing in over 31 lbs. collectively.

Familiar names graced the top of the leader board as; Brenner Flaten, Glasgow, MT., and Cole Plouffe, Glendive, MT. took home this year's tournament championship with a 5-fish limit of 37.69 lbs. The Championship is a 3-peat performance for Flaten after winning the Clash with Chad Dawson in 2018 and Plouffe in 2017. After 20 years and 55 events, it's the first ever 3-peat performance by an individual angler at a Montana Cats Tournament. The title also ties Flaten, with Nate Molstad, Havre, MT., for the most career MT Cats Championships with nine. The duo said it was a struggle early on. "At noon we had one fish. We caught one in the first 10 minutes, and didn't have another over the next three hours. We made a big move upstream above the bridge and It paid off. We ended up culling out three 6 pounders. All five fish in the basket were between 7 and 8 lbs."
Runner-up honors went to the local team of Casey Heller, Williston, ND., and Jeremy Slater, Trenton, ND. with a very impressive weight of 35.53 lbs. In addition to their overall team finish, Casey was honored with the big fish award for his 10 lb. Missouri River trophy. The Big Fish was worth $700 cash. Heller had been 3-time Top 20 prior to this year's event and had slowly been creeping up the leaderboard. The 2nd place finish garnered them a big check and some hardware for the wall. Great job gentleman!
Third place went back to Montana, as Glendive anglers, Steve and Kelly Linder, boated 32.13 lbs. Steve and Kelly built on their 14th place finish from 2018 and brought a basket of beauties into weigh-ins. Despite spending the majority of their time on the Yellowstone River every summer, the husband and wife combo have shown the versatility to get it done out of state and on a new body of water.
Fourth place was the father-son team of James and Luke Bergeron, out of Sidney, MT. The Bergeron's were the only other team to crack the 30 lb. plateau and they did it with a smile on their faces. Watching father-son teams like the Bergeron's make everlasting memories together is part of what makes this circuit so special. This marks back to back top 4 finishes for the Bergeron's at the Clash, as they finished in 3rd in 2018. Very impressive.
Finally, rounding out the top five, is another familiar team. James Decker, Sidney, MT., and Steve Lowrey, Fairview, MT., put up 29.40 lbs. It's been one hell of a run for Lowrey this season as he adds another top-5 finish to a year that already included a Milk River Catfish Classic Championship up in Glasgow.
In ordinary fashion, the Montana Catfish Association also announced the B'n'M Poles Montana Cats Angler of the Year at the Conclusion of the event. This year's recipient is Cole Plouffe. Plouffe had a season for the ages. He finished with 71 total points, tied for the 2nd most ever in the 7-year history of the AOY award. Cole started off the season with a respectable 12th place finish at the Yellowstone Challenge in Huntley, followed it up with a 3rd place place finish at the Milk River Catfish Classic, nabbed another 3rd place in Sidney at the Monster Cat Roundup, and put a bow on the season with his title at the Clash. Even more impressive, is the fact that he pulled it off while fishing with a different partner for all four events. Cole kept it short and simple as he received his award, "I'd like to thank all my partners that fished with me this season. I also had a struggle with finding bait at times, so I appreciate the few of you that have really helped me out with bait. Thank you to everyone who runs the tournaments". Cole received a plaque from Montana Cats and a $500 cash award from BnM Poles. He is the 7th consecutive "1st time" winner of the award. Montana Cats has never had a repeat winner of the AOY. That speaks to the true competitiveness of one of this country's finest Catfish Circuits. Congratulations Cole!

As the 2019 Montana Cats season comes to a close we want to express our gratitude to everyone who fished our circuits events this year. These tournaments are only as successful as the individuals who continue to show up for them. Thank you and we hope to see you again next spring! We would like to highlight our six circuit level sponsors at this time; Whisker Seeker Tackle, B'n'M Poles, Cat River Anchors, Riverside Marine and Cycle of Miles City, Shelly George w/ Thrivent Financial, and RS Jet Boat Anchors. We couldn't put on these top flight events without your support and we appreciate you. See you ALL in Huntley for the 14th Annual Yellowstone Challenge on May 9th, 2020.
Please enjoy the pictures from the event and the complete finals results from this past weekend below.
---
Pictures
Pictures for this event can be found here.
---
Big Fish
| | | |
| --- | --- | --- |
| Casey Heller | 10.00 lbs. | Big Fish Award |
---
Complete Results
Posted in: Missouri River Catfish Clash