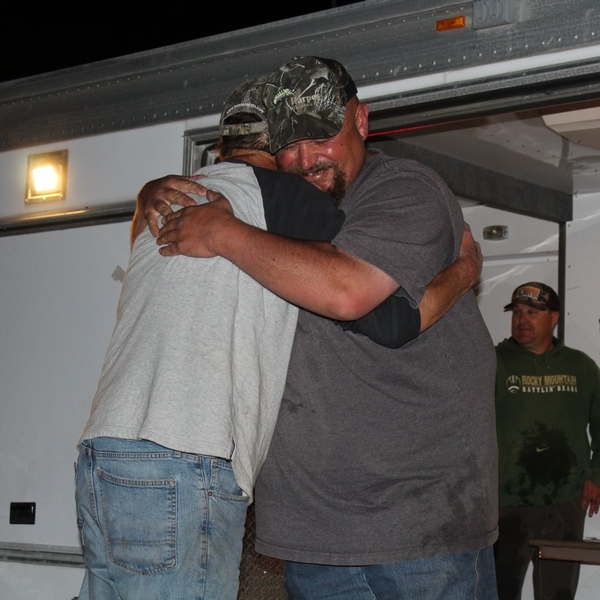 Glasgow, MT 6/5/21 - The Cat Classic is the gift that keeps on giving! Simply unbelievable. On a week where it seemed big fish would be hard to come by, it proved to be anything but. With very lower water conditions and a heat index in the 90's for the days leading up to the tourney there was an expectation among anglers that this years tourney would be a real challenge and the resident population of catfish in the Mighty Milk would be tight lipped on tourney night. Leave it the Cat Classic to throw everyone a wrench into the angler's plans and come out swinging. The fishing was fantastic again this year for the 80-team field as a whopping twenty eight teams weighed in over 20 lbs. of fish! That ties the all-time record set in 2017 and 2019.

For the 3rd consecutive year, a non-local team captured the coveted crown, as Bobby and Robert Wise, both of Billings, MT., toppled the field with an amazing basket of fish. Their weight of 39.29 lbs. is the 5th largest weight in tournament history and is the 3rd highest ever in the main river channel (Tributary creeks were removed from the event boundaries after 2017). The weight is the largest ever put together below Vandalia Dam. The "Wise Guys" made it back to back for Billings anglers following last years championship claimed by; Dan and Eli Dupea. It has been a long time coming on the Milk for the father-son duo that had already claimed 2 championships at both the Yellowstone Challenge in Huntley and the Monster Cat Roundup in Sidney. They had been competing in the Classic every year since 2014, a string of eight straight tourney's and had four Top 10 finishes to their credit coming into this year.

Brothers, Rod Seder, Billings, MT., and Rob Seder, Hardin, MT. also smashed the 30 lb. barrier with a 33.85 lb. basket of fish. An outstanding night of fishing for the veteran circuit anglers in only their 2nd Cat Classic appearance. Rob bolstered his team's final weight when he landed the Big Whiskers Award for the 2nd largest fish of the tourney. A 9.48 lb. trophy cat.

That cat wasn't quite large enough to take Jumbo Whiskers honors. That historic achievement went to 11-year old Michael Hendry of Nashua, MT., who was fishing with his Grandpa Mike Merideth when he landed a fish for the ages! A 13.88 lb. behemoth that broke the 22-year tournament record by just one hundredth of a pound. The previous record was 13.87 caught by Bo Boreson back in 2017. Congratulations young man!

Rounding out the top 3 was Jason Flaten, West Wendover, NV., and Cole Plouffe, Glendive MT. with 29.22 lbs. on five fish. The Glasgow natives are no strangers to Cat Classic glory as they were the Champions in 2018. The accomplishment marks eight times in the Top 3 for Flaten. Plouffe is chasing a 3rd consecutive Angler of the Year award on the Montana Cats Circuit this season. 4th Place went to JD Bailey, Opheim, MT., and Callahan Belling, Richland, MT., just missed the hardware at 29.11 lbs. Lewistown anglers, Bryon Armour and Gunnar Thomas weighed in 28.94 lbs., good enough to grab the final spot in the Top 5. Bryon has now secured four Top 10 finishes in the Classic.

In the end, sixty one teams brought a limit of five cats into weigh-ins. Ten other teams also brought fish to the scales. A grand total of 71 teams weighed in 334 Channel Catfish for an average of 3.78 lbs. per cat. Very nice night on the water!

For a 3rd consecutive year, the Glasgow Chamber of Commerce sponsored "Milk River Catfish Days" to coincide with the Cat Classic. The event provides fun for the whole family. This year's festivities included the Catfish Crawl 1 Milk / 5K Run Walk, Adult and Child Corn Hole Tournaments, Dart Tournament, Kids Fishing Tournament, Flatland Cruisers Car Show, "Schools Out" Children's Carnival, Crazy Days Sales, Food Trucks, Sidewalk Vendors, Calcutta's, Live Music, Street Dance, and more! What a weekend. Thank you to the Glasgow TBID, Catfish Days committee, and the Glasgow Chamber for your time, efforts, and financial contributions to make this fun for everyone.

Thank you locally to the Nemont Beverage Corp., D&G Sports & Western, and Shelly George with Thrivent Financial for the prizes and the support. We also appreciate Montana Bar's generosity in sponsoring Friday night's Live Music entertainment on Front Street. BnM Poles, RS Jet Boat Anchors are all circuit level sponsors who contributed to this year's event and we couldn't do it without their continued support.

Mark your calendars today. The 4th Annual Milk River Catfish Days, featuring the 23rd Annual Milk River Catfish Classic, will return to Glasgow on June 3-4, 2022.
22nd Annual Milk River Catfish Classic FINAL RESULTS
Posted in: Milk River Catfish Classic