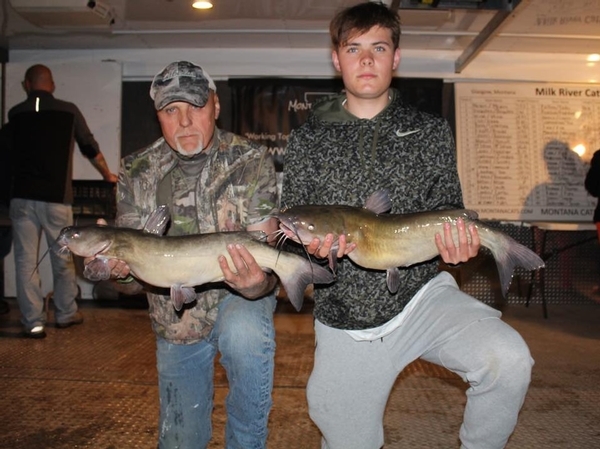 6/6/2020 (Glasgow, MT) - What an unforgettable weekend! The 21st version of the Milk River Catfish Classic is one that won't soon be forgotten. Normal flows, warmer weather, and an impending storm were just some of the things on the minds of this year's anglers as they prepared for battle. Thankfully, the high winds ultimately subsided on Saturday evening and the rains effected only a small portion of the tournament boundaries. The stage was set for another great night of fishing on the Milk! Once again a full field of 80 teams competed in the 8-hour shootout. At the end of the evening, 72 of the 80 teams would weigh in fish; with 24 teams topping the 20 lb. barrier. 307 Channel Catfish hit the scales on Saturday night and ALL were returned safely to the Milk River. The top of the leaderboard was littered with newcomers experiencing their first taste of the "Hot Seats" on stage at Midnight Weigh-Ins in downtown Glasgow.
Rising above the field was the Grandpa-Grandson duo of Dan and Eli Dupea, of Billings, MT. The Yellowstone County Anglers have been fishing Montana Cats Circuit events for the past 15 seasons and this is their first taste of victory. Eli had previously won Big Fish honors at the Yellowstone Challenge way back in 2013 when he was just a little tike, he is now a Milk River Catfish Classic Champion. Dan was noticeably excited about their evening of fishing. When asked on stage to explain their 3 days of fishing on the milk, he shared some details of the struggle. "On Thursday we fished for 4 hours. We got one bite, caught only one fish. I had fished this tournament twice before and did not do well at all so I was questioning some things at that point. On Friday pre-fishing, things picked up dramatically and we caught 30 lbs. Tonight, we even topped that". The champs brought a 32.27 lb. basket to the scales to excite the crowd at 1:00 AM.
Claiming runner up honors was the young squad of William and Wes Van Hook of Sidney. Youth was certainly on their side as they managed 31.76 lbs. just a 1/2 lb. off the pace. Their overall weight was bolstered by William's Jumbo Whiskers Award kitty given to the largest Cat of the evening. It officially came in at 11.60 lbs., the 6th largest cat weighed in the 21 year history of the event.
3rd place was yet another newcomer to the Top 5. Jayson Riggin and Robert Petersen, both of Billings, enjoyed a fantastic evening of fishing and it showed on the scales with 29.85 lbs. 4th place went to a tourney veteran that has experienced his share of success at the Classic. Willy Lauckner of Nashua, teamed up with Colton Yoss, also of Nashua, to put together a 27.22 lb. basket of their own. This is Willy's 8th consecutive time in the Top 20 and his 5th time in the Top 10. Rounding out the Top five was Dan and Amber Achten of Laurel, MT. This husband and wife team has not missed a Montana Cats Circuit event in three years and are thrilled to secure their first ever top five finish with an impressive 26.71 lbs. Amber remarked, "We honestly thought about not coming up this year for this one. The Milk has been tough to crack. A lot different than the Yellowstone."
Uncharacteristically for the Classic, the top six teams all fished from boat this year. It is the first time the tournament championship has ever been officially claimed by a team fishing predominantly out of a boat throughout the evening. It just goes to show that you never know what can happen in a Cat Classic!
We would like to thank Glasgow TBID, Nemont Beverage Corporation, D&G Sports and Western, Newton Motors, Hi-Line Sportsmen, Cat River Anchors, Whisker Seeker Tackle, Shelly George w/ Thrivent Financial, and RS Jet Boat Anchors for their continued support. We would like to thank the Glasgow Chamber of Commerce for sponsoring the 2nd Annual Milk River Catfish Days. A community event that featured the Catfish Crawl, a Cornhole tournament, kids fishing derby, crazy days vendor show, and much much more. What an outstanding annual event for the whole family!
The Montana Catfish Association has only reached it's midpoint of the 2020 season. Let's all get geared up for the 12th Annual Monster Cat Roundup coming to Sidney on Saturday, July 18th. The season will conclude with the 10th Annual Missouri River Catfish Clash in Williston, ND. on Saturday, August 15th. The Angler of the Year Standings are starting to heat up and it's anybody's ball game at this point. Good luck and Catfish on!!
21st Annual Milk River Catfish Classic FINAL RESULTS
Posted in: Milk River Catfish Classic