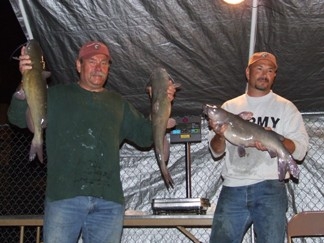 3/21/08- Yes…..it's that time once again. Break out your tackle and round up some of your favorite bait, its catfishing time! As the month of March comes to a close, the ice is beginning to break loose on Montana's lakes and rivers. When April arrives, the bite will be heating up and it will be time to go out and look for some monster cats. With that in mind we would like to update you on the direction of the website, association and tournament schedule for the 2008 season.
2007 was a great year that included positive progress for the Montana Catfish Association. The website continued to grow at a rapid pace and the message board activity reached an all-time high. The Montana Cats field staff also expanded to five members in 2007, with the inclusion of Nate Molstad and Steve Harris. Steve and Nate bring a wealth of experience and a love for the sport of catfishing to the current staff.
We are open to suggestions on improving the association now and in the future. Look for memberships to become available by 2009. We are also seeking ways to improve and expand our website. We hope to include Podcast interviews and Youtube video on the site this year. Video footage of fishing trips, tournament weigh-ins as well as podcast interviews of tournament participants will be a way to increase web traffic and improve viewers online experience. We also hope to update the tackle section to include reviews on: catfish reels, hooks and boats. The Cat Waters section will be updated to include the: Powder River, Tongue River/Reservoir, and Missouri River. We also hope to include a new apparel section that will include: caps, t-shirts, decals, etc.
Catfish tournaments are a big part of our passion and we could not be happier with how the 2007 tournament season transpired. The inaugural year of the Yellowstone Challenge Catfish Tournament held in Huntley was a smashing success. 42 teams entered the event and it promises continued growth into the future. The Milk River Catfish Classic provided new records and extreme drama in 2007. It has become one of the premier social events in North-East Montana over the course of the past decade. The community of Glasgow has embraced the idea of a competitive catfishing tournament and has run with it. If you haven't made it up for the annual showdown, mark your calendars for the first weekend of June 2008. Come see what all the excitement is about! The Savage Catfish tournament filled to its 50-team capacity for the first time in its four years of existence. Jim Miller and company do an excellent job and put on one heck of a feast too! It should be another exciting year for Montana catfish tournaments in 2008.
The Milk River Cat Classic will be extended by a ½ hour this year and the Yellowstone Challenge by an hour. This will allow the anglers more time on the water and a better chance at a more impressive stringer. Both the Challenge and Savage tournaments will expand to a 60-team field , making all three Montana Catfish tournaments a 60-team limit. Entry Forms can be obtained by clicking on the links below.
Posted in: Outlook