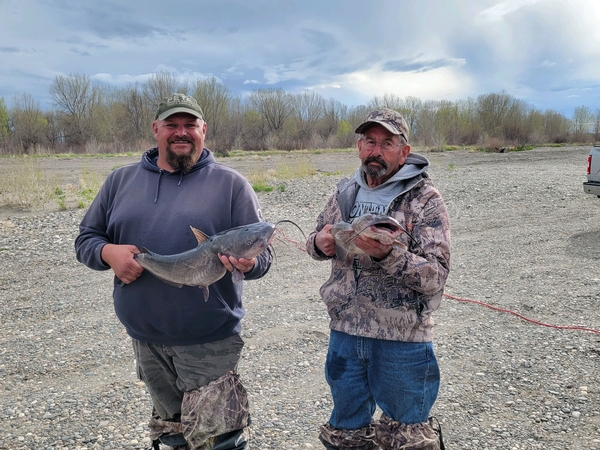 The 16th Annual Yellowstone Challenge Catfish Tournament kicked off the 2022 Montana Cats tour this past weekend in Huntley. The total 60 team field filled weeks in advance, a clear indication of the excitement surrounding this year's event. The teams gathered on Friday night at the NEW tournament headquarters at the beautiful Rhoadside Event Center in downtown Huntley for the rules meeting and Calcutta. If the "chatter" at the initial meeting were any indication, this year's event would present a whole NEW set of challenges.
Area drought conditions created uncharacteristically LOW flows, which required not only NEW fish locating requirements but also superb boat navigation skills. The week leading up to competition days saw flows as low as 4K CFS. For comparison's sake, the 2019 tourney boasted 40,000 CFS flows on the high side, more than 10X for flows of the 2022 event. It's these constant changing river conditions year-to-year and day-to-day, especially early season, that force anglers to adapt their skills to maximize catch rates.
Despite the difficult river conditions, these teams once again proved why they are the elite Catfish anglers in the region. When all was said and done, 45 teams were in double digits and an AMAZING 35 teams cracked the 20 lb mark on 5 fish. Leading the way in the top 10 were tourney vets Brenner Flaten (Glasgow, MT) & Josh Marottek (Medicine Lake, MT) tipping the scales with 27.76. The father son combo Austin Oblander (Billings, MT) & Otis Oblander (Ballentine, MT) weighed in 28.02lb, solidifying themselves as one of the top teams in the Huntley area. Past big fish and tour Champs Dan Dupea (Billings, MT) & Eli Dupea (Billings, MT) crushed 28.18 lbs of Cats, good enough for 8th place. The husband/wife duo Derek Weber (Billings, MT) & Kassandra Weber (Billings, MT) had a phenomenal day on the water netting 29.83 on 5 fish, good enough for 7th place. Returning Champions Eric Braunberger (Miles City, MT) & Eddie White (Forsyth, MT) had another great tourney, bring in a 30.33 basket of Yellowstone kitties, landing them in 6th place.
Leading off the top 5, was team Alexander Kochman Billings, MT & Michael Erdman Billings, MT with a 30.53 basket. This marks back-to-back Top 5 finishes for Kochman and Erdman, ensuring they will a team to be reckoned with in the future. Three-time Montana Cats Angler of the Year Cole Plouffe (Glendive, MT) & Chad Dawson (Dickinson, ND) continued their perpetual "heater" landing 33.40 lbs and setting themselves up for early season AOY honors once again, good enough for 4th place. The husband wife duo of Amber & Dan Achten (Laurel, MT) landed 33.56 of cats placing them in 3rd. "That was the best day we have ever had on the river. I was kind of upset though because we wanted 40 lbs." explained Amber. Seasoned anglers George Stuckers (Sidney, MT) & Kyle Knight (Billings, MT) put together their best tourney to date, finishing just 1 lb off the lead with 34.25 lbs. That weight was good enough for a hefty cash prize, tourney plaques and the best anchors on the market (RS Jet Boat Anchor). After all the dust settled, one of THE most decorated teams in tour history once again stood atop the leader board. The father/son combo of Bobby & Robert Wise (Billings, MT) netted 35.26lbs of Yellowstone River piggies, good enough to claim the crown. Team Wise also claimed the Big Fish Award with a 10.51 lb monster. This marks the third Yellowstone Challenge CHAMPIONSHIP and sixth tour wide championship finish for the father/son duo (2X Monster Cat Roundup / 1X Milk River Catfish Classic). Congrats to ALL teams on an outstanding tournament and we can't wait to see everyone next year for the 17th Annual event.
The Yellowstone Challenge and Montana Cats would like to thank the following sponsors for helping make this tournament possible: Rhoadeside Event Center, Briggs Distributing, B'n'M Poles, Enduro Products, Marathon Petroleum Corporation, RS Jet Boat Anchors, Shelly George w/ Thrivent Financial, Montucky Cold Snacks & Easy Clips Culling System.
The Montana Catfish Association is a NON-PROFIT organization that runs this tournament and others around the state to help promote Channel Catfish in Montana and local communities. All of our tournaments are OVER 100% payback. That means 100% CASH payback from entries and thousands of dollars in additional prizes. We're in it for the fishermen, local communities and Channel Catfish. If you check out the tournament rosters, you'll notice a distinct "family" feel to it. We love the friendly competition and comradery these events provide. Lifelong friendships have and will continue to develop as a result. Thank you SO much to everyone that participates in our events to make us one of THE most successful Catfish circuits in the NATION!
If you haven't checked us out online, please take the opportunity to do so @ montanacats.com. Stay connected to us on social media outlets Facebook, twitter and our message board. Also, please sign up for our email list to stay better informed on ALL the happenings with Montana Cats year-round.
Two of our Montana Cats events; the Missouri River Catfish Clash in Williston, ND and Monster Cat Roundup in Sidney still have openings. Take this opportunity to sign up now before it's too late. See everyone in Glasgow for the second leg of the Montana Catfish Association tour at the Milk River Catfish Classic on June 4th.
Posted in: Yellowstone Challenge