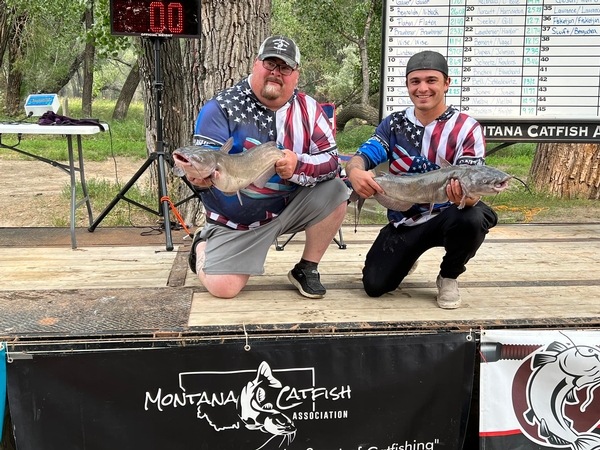 7/15/23 - Sidney, MT. - It was another great day on the Yellowstone River for the Annual Monster Cat Roundup! This year provided more unique challenges for the 37 teams in attendance. It happened to be the 3rd highest river levels in the 15-year history of the event as the streamflow hovered at 30,000 cubic feet per second. Only the inaugural year and the flood year of 2011, provided higher water. Our recent cooler summer temps also kept the water temperature nearly 8 degrees cooler than the tournament average. Despite those obvious differences, fishing still proved to be quite difficult for much of the field.

One team stood above all others, however, as the father-son duo of Todd Lindsay, Laurel, MT., and JJ Lindsay, Billings, MT., absolutely obliterated the field with a heaping basket of cats that tipped the scales at 37.03 lbs. It proved to be nearly 11 lbs. clear of the runner-up team and marks the 2nd largest margin of victory in tournament history. Todd turned an incredible trick on tournament day as he landed the TWO largest Cats of the day. An 11.08 lb. whopper and a 9.14 pounder to go with it. Todd remarked, "It was 10:00 AM and we had 37 pounds. After that, we did continue to catch 5 pound fish and we could have had a 2nd basket of nearly 25 lbs." This marks the first Montana Cats Circuit win for the Lindsay family and one that is extremely well deserved! Todd, JJ, and Kellie have been cutting their teeth on circuit for 5+ years and they are not afraid to put in the time. Congratulations to the whole family.

Coming in runner-up were local anglers Matt Reynolds and Carrie Niblock, both of Sidney with 26.08 lbs. Matt and Carrie are no strangers to success at the Roundup as they teamed up to win the event handily in 2016. 3rd place went to a pair of Glasgow anglers; Steve Norcutt and Allan Harrington, with 25.28 lbs. Steve and Allan have been fishing Montana Cats events for a long time and this marks their first time in the Top 3! Congratulations gentleman on the well deserved hardware for the wall.

The 2023 Montana Cats season has now officially rounded third base and is headed for home. The tournament season will conclude with next month's Missouri River Catfish Clash in Williston, North Dakota. It will be held on Saturday Aug. 19th and will once again be headquartered out of the Lewis and Clark bridge fishing access site. There is still plenty of time to get registered and join in the fun! The event will bring it's normal great fishing and it will also determine who will be this year's Montana Cats Angler of the Year. 2018 winner, Jason Flaten, currently holds a comforable lead after wining the Yellowstone Challenge and Milk River Catfish Classic events earlier this season. 2022 winner, Eric Braunberger, and 2017 winner, Brenner Flaten, are also still mathematically alive for the big prize as we head into the culminating event.

The Montana Catfish Association would like to thank ALL of our valued sponsors for this year's Monster Cat Roundup and express our gratitude to the Ranger Lounge for again being such a gracious host for our Friday night Calcutta/Social and the Saturday post-tournament Angler Feed. The Monster Cat Roundup will return to Sidney for the 16th Annual on Saturday July 20th, 2024.
Posted in: Monster Cat Roundup