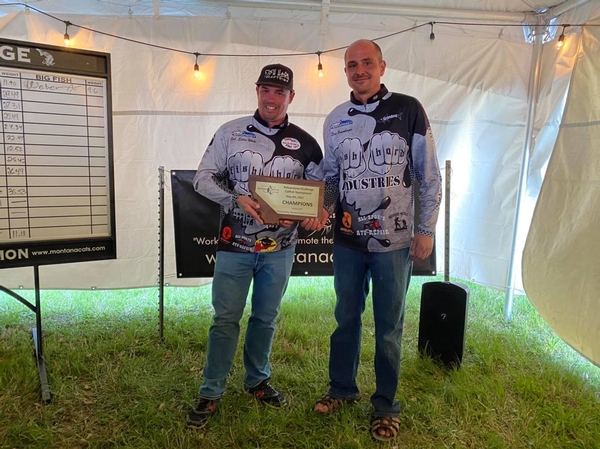 The Montana Catfish Association hosted the 15th Annual Yellowstone Challenge this past weekend in Huntley, MT. Friday night kicked off with the rules meeting, social and Calcutta. Anglers and fans took the time catching up with old friends and meeting new ones in the process. The Challenge filled it's 60 team field for the first time since 2015 once again lived up to its name. With temperatures breaking the 70-degree mark on Friday, many anglers were hoping to enjoy some comfort fishing for this year's event. No such luck. Competitors faced fierce winds, hail, snow, and rain throughout the tournament day, with temperatures dipping into the low 40's. Couple that with uncharacteristically low flows and the tournament field had quite a challenge on their hands.
At the end of the day, however, the leaderboard showed a different story. A rule change resulting in river side weigh-ins, encouraged the tournament committee to implement a 5 fish limit this year (previous 4). The anglers took clear advantage, posting phenomenal bags at the end of the day. In a testament to how far angler knowledge, tactics and perseverance has come; 48 out of the 60-team field weighed in fish. 34 teams weighed in over 20 lbs. 24 teams weighed in over 25 lbs, an amazing 5 lb average. Weighing in a 25 lb basket wouldn't prove to guarantee a top 20 finish and it would take an over 6 lb average to crack the top 5.
Local anglers Eric Spooner and Brandon Sam out of Billings posted their first top 10 finish at the Challenge with an impressive 27.63 lb basket. Will Goerss made the trip up from Colstrip and paired with local ace Luke Brady for a 28.53 lb 9th place finish. Multiple time Champs & Father/Son combo Bobby and Robert Wise finished in 8th with 28.91 lbs. Blayze Mikkelson and Dustin Neely out of Shepherd finished in 7th, which is this teams second top 10 finish in the past 4 years. Husband and wife combo Dan and Amber Achten once again proved they belong in the discussion for top Montana Catfish anglers with an impressive 6th place finish and 29.49 lbs of Yellowstone kitties.
Laurel natives Chad Rolison and Jeremiah Johnson had an amazing day on the water and a top 5 finish, coming in with 30.39 lbs. Back-to-back Montana Cats Angler of the Year Cole Plouffe and his partner Chad Dawson had another impressive performance with 31.69 lbs., good enough for 4th place. Cole and Chad appear once again to be early favorites for the 2021 AOY race. Local anglers Alexander Kochman and Michael Erdman came in with an amazing 32.12 lbs on five fish. These gentlemen used their extensive pre-fishing prep and stayed with what worked for them early in the week. Runners-up Clarence Weber and tourney veteran Wade Bomar used their tourney best 10.6 lb Yellowstone piggy to anchor their basket of 32.36 lbs. That fish was good enough to take home big fish honors and their basket was good enough for 2nd place. Tourney veteran Eddie White out of Broadview and his partner Eric Braunberger out of Miles City used some good old-fashioned intuition on the way to their Championship and 35.53 lb basket. "We didn't really have the opportunity to pre-fish, so Eric and I agreed on a spot I had some success with in the past. We had a good portion of our basket in the boat before noon and slowly upgraded after that. Fishing rocks in 3 to 8 foot or water with cut sucker/goldeye is what proved successful." Explained White.
That puts a wrap on the 2021 Yellowstone Challenge. The Montana Catfish Association would like to thank all our AWESOME anglers and top-notch sponsors for making these events possible. A huge thank you goes out to Shelly George/Thrivent Financial, Cowboys, Enduro Products, Montucky Cold Snacks, B'n'M Poles, RS Jet Boat Anchors, Spring Creek Mine and Briggs Distributing. Mark your calendars for Saturday, May 14th, 2022 for the 16th Annual Yellowstone Challenge Catfish Tournament in Huntley, MT. We always set the tournament on the SECOND Saturday in May and fortunately miss Mother's Day next year. We filled the 60-jet boat field this year and we anticipate it filling quickly next year, as we have some exciting new changes. Registration will begin January 1st, 2022.
15th Annual Yellowstone Challenge FINAL RESULTS
15th Annual Yellowstone Challenge PICTURES
Posted in: Yellowstone Challenge