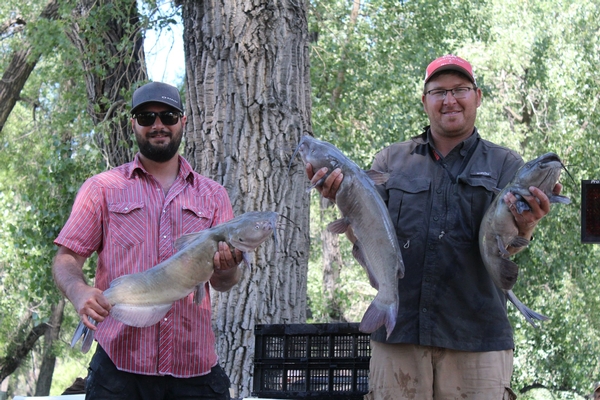 7/16/22 - Sidney, MT. - There always seems to be two mainstays at the Monster Cat Roundup. The anglers should always expect a challenging bite and they should never forget the sunscreen. This year provided more of the same. The summer heat peaked in the mid 90's this time around, but despite those difficult conditions it is safe to say the 50-boat field won this version of the battle! Twenty teams weighed in over 20 lbs. breaking the previous record of seventeen teams with 20+ pounds in 2020. Teams reported solid weights, but limited numbers. In what has become customary at this post-spawn event, a five fish limit presented it's own unique challenges.

No one "cracked the code" quite like Glendive anglers, Cole Plouffe and Brett Burman. The veteran Catfishermen deployed a mobile strategy that helped them land over 40 catfish throughout the duration of the event. Those are numbers unheard of in this Sidney section for this time of year. Cole stated, "We caught over 20 Cats in one spot and had 35+ pounds by 10:00 AM". They ended with 37.80 lbs., the third best weight in tournament history. Brett landed the 2nd largest catfish of the day when be boated a 10.09 lb. brute. That fish provided the cushion needed to secure the crown. It is the first Monster Cat Roundup title for either angler, but it is a 6th tournament championship for Plouffe during his Montana Cats Career. Moving himself into a tie with Chad Dawson and the Wise Guys (Bobby and Robert) for 3rd All-Time in career circuit victories. Congratulations gentleman on a great day on the water!

Local anglers, Sam and Fran Syth, both of Sidney, also were able to dial them in and separate themselves from the rest of the field. It represents the first ever "hardware" at a Montana Cats event for the Husband and Wife duo as they finished runner-up, just over 3 lbs. off the pace with 34.26 lbs. They were over 6 lbs. clear of everyone else. They used two monsters to help them catapult up the leaderboard as Sam landed both a 9.89 lb. and an 8.75 lb. cat. A truly impressive day for a team that has put a lot of time on the water over the years in this section.

Defending champions, Brenner Flaten and Chad Dawson, both of Glasgow, followed up last year's performance with another impressive outing. They landed 13 cats on the day and were able to put together a 5-fish basket that tipped the scales at 28.18 lbs. Good enough for third place and 2 1/2 lbs. ahead of the next closest challenger. Brenner boated an 11.55 lb. trophy during the event. It was good enough to win big fish of the day and also marks the 3rd largest Cat caught in tournament history. It is the first Big Fish Award for Flaten during a Montana Cats event since the 5th Annual Milk River Catfish Classic way back in 2004.
Trevor Gust and Taylor Hovland, both of Bismarck, ND., secured a 4th place finish with 25.67 lbs. A fine day on the water for the team from our neighboring state! Rounding out the top five, was a perennial top-squad, Rod Seder, of Billings, and Rob Seder, of Hardin. The Seder brothers landed 25.38 lbs. and have yet another impressive finish to add to their resumes.
The weekend kicked off and concluded at the Ranger Lounge. Every year our Montana Cats organization appreciates the setting that the Ranger continually provides. This event would not be such a success without ALL of our great sponsors and without long-time tournament directors, Steve and Ashley Harris. A BIG thanks to ALL of those involved with the Monster Cat Roundup that help make it a true destination for all competitive Catfish anglers. Mark your calendars for the 15th Annual Monster Cat Roundup returning to Sidney on Saturday July 15th, 2023.
The time is now. It is time to get excited about the final event on this year's Montana Cats Circuit. The tour will make a pit stop in Williston, North Dakota next month on Saturday August 20th for the 12th Annual Missouri River Catfish Clash. The always competitive, BnM Poles Montana Cats Angler of the Year Award will once again come down to the final event of the season. Glasgow angler, Chad Dawson, currently holds a slight lead over 3-time defending Champion, Cole Plouffe. Dan and Amber Achten, both of Laurel, are right in the thick of things and within striking distance. Eddie White and Eric Braunberger, both of Miles City, are hanging tough and are still mathematically alive for the prestigious honor as we head into the final weekend. The goal is to fill the 60 boat field and send out the 2022 MT Cats season on a high note! See you all at the Oil Patch.

Complete Final Results 14th Annual Monster Cat Roundup
Posted in: Monster Cat Roundup