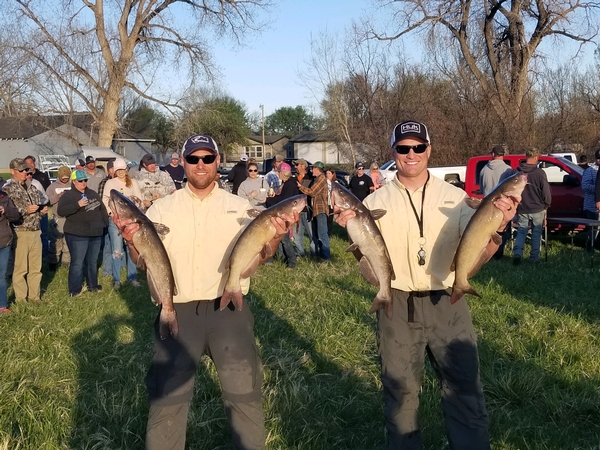 5/9/20 (Huntley, MT) – The 2020 Montana Cats tourney season kicked off this past weekend with the 14th Annual Yellowstone Challenge in Huntley. This year provided a welcome break from the turbulent river conditions present the past couple years. 51 jet boats entered and 41 teams weighed fish. After the dust settled, an impressive 14 teams finished with a basket over 20 lbs. (over a 5 lb. average).
In the end, the leaderboard was littered with tourney veterans. Last year's Milk River Catfish Classic champion Steve Harris partnered with 2 time Yellowstone Challenge champion Nick Fortier. Their 24.15lb basket was good enough for fifth place. Former Challenge champion Rod Seder and his brother Rob claimed 4th place with 25.97 lbs. That marks the ninth time Rod has placed in the top 15 in the Yellowstone Challenge.
The third place plaque went to the father son combo Bobby and Robert Wise. Their 26.27 lb. basket was helped out with a nice 8 lb beauty. This marks the former 2X champions eighth time in the top 10 of this event. Second place and big fish honors went to 2019 AOY Cole Plouffe and tourney vet Chad Dawson. Their 10 lb Yellowstone river piggy buoyed their 29 lb basket.
The brother combo of Brenner and Jason Flaten were able to claim the top spot in dramatic fashion. The four fish limit was bouncing back and forth of 29 lbs. The scale finally "locked in" at 29.11 lbs. That was good enough for a .11 lb victory. That finish results in the fourth consecutive top three finish for this team and second Challenge championship. That marks Brenner's 10th Montana Cats championship and Jason's fifth. Congrats to ALL anglers on another successful Yellowstone Challenge!
The Yellowstone Challenge and Montana Cats would like to thank the following sponsors for helping make this tournament possible: Cowboys, Cat River Anchors, Briggs Distributing, Whisker Seeker Tackle, RS Jet Boat Anchors & Shelly George with Thriven Financial Services.
The Montana Catfish Association is a NON-PROFIT organization that runs this tournament and others around the state to help promote Channel Catfish in Montana and local communities. All of our tournaments are OVER 100% payback. That means 100% CASH payback from entries and thousands of dollars in additional prizes. We're in it for the fishermen, local communities and Channel Catfish. If you check out the tournament rosters, you'll notice a distinct "family" feel to it. We love the friendly competition and comradery these events provide. Lifelong friendships have and will continue to develop as a result. Thank you SO much to everyone that participates in our events to make us one of THE most successful Catfish circuits in the NATION!
If you haven't checked us out online, please take the opportunity to do so @ montanacats.com. Stay connected to us on social media outlets Facebook, twitter and our message board. Also, please sign up for our email list to stay better informed on ALL the happenings with Montana Cats year round.
Two of our Montana Cats events; the Missouri River Catfish Clash in Williston, ND and Monster Cat Roundup in Sidney still have openings. Take this opportunity to sign up now before it's too late. See everyone in Glasgow for the second leg of the Montana Catfish Association tour at the Milk River Catfish Classic on June 6th.
14th Annual Yellowstone Challenge FINAL RESULTS
Posted in: Yellowstone Challenge