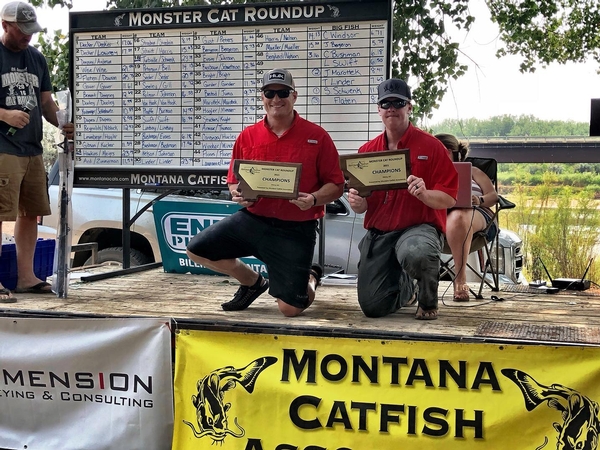 7/17/21 - Sidney, MT. - The Yellowstone River is very low and recent temperature's have been unseasonably scorching. With those conditions unlikely to change over the weekend, the Montana Catfish Association Board of Directors held discussion early this week and took unprecedented action to protect the health of the fish during the event. For the first time in the 13-year history of the Monster Cat Roundup, the 5-fish limit was reduced to just 4 for this year's event. The change would allow anglers a better chance to keep their fish healthy and return them safely to the river after weigh-ins. Mission accomplished! It was a highly successful event once again. Despite 96 degree heat, the Montana Cats anglers passed the test with flying colors and proved yet again that they are committed to keeping the fish in great shape.

48 boats braved the heat and navigated a river that can prove to be very daunting in low water conditions. Twenty one teams weighed in 15+ pounds and three catfish tipped the scales at over 8 pounds each. No matter the obstacle the "Stone" always seems to provide proof that it is one of the finest Channel Catfish rivers in the entire country. This year; experienced circuit anglers littered the top 10 at the end of the eight hour event.

Brenner Flaten, Glasgow, MT., and Chad Dawson, Dickinson, ND., reclaimed the championship with a 4-fish basket of 25.75 lbs. It is the 3rd Monster Cat Roundup title for both anglers, their first win since 2012. When asked about the day on the water, Chad stated, "We fished 4 spots, we probably made about 15 to 20 anchors within those four locations". The teammates caught 23 catfish and upgraded throughout the day to secure the victory. This marks a Montana Cats record 11th championship on circuit for Flaten and a 6th title for Dawson. Great job gentleman!
It could not have been any tighter in the fight for 2nd place as a mere .25 lbs. separated 2nd from 4th place. Finishing with runner-up honors went to the team of brothers out of Glendive, Steve and Tim Linder with 23.44 lbs. Steve commented, "It was a hot grind on the water today. Tim and I ended up finding the right fish in the afternoon to fill and upgrade our limit." The final plaques went to 3rd place finishers, Larry Turbiville and Sara Schwenk, both of Sidney. The local duo landed their entire 23.39 lb. basket of fish during the first hour of the tourney and did a great job keeping their fish in good health. Sara's monster 11.04 lb. cat would end up taking the big fish honors for the day and help catapult her team into tournament contention; finishing just .05 out of second. 4th place went to Abraham Hawkins and Duane Meiers, both of Billings, as they just missed hardware with a great limit of fish that tipped the scales at 23.19 lbs. Abraham and Duane made a move late in the event, found some great cover, and were able to make huge upgrades just before weigh-ins. A perfect example of why you never quit fishing no matter how the day is unfolding. A pair of locals rounded out the top 5, as Pete and Chance Windsor were able to boat 21.94 lbs.

The weekend once again began and ended at the Ranger Lounge and the Montana Catfish Association greatly appreciates their hospitality. This event could not be managed without ALL of our great sponsors and without tournament directors, Steve and Ashley Harris. A BIG thanks from the team at Montana Cats on another successful Monster Cat Roundup. Mark your calendars for the 14th Annual returning to Sidney on Saturday July 16th, 2022.

In the meantime, it is time to get geared up for another culminating event on the Montana Cats Circuit. The tour will invade Williston, North Dakota next month on Saturday August 21st for the 11th Annual Missouri River Catfish Clash. The famed MT Cats Angler of the Year will also come down to the final weekend. Dickinson, ND angler, Chad Dawson, currently holds a slight lead over Bobby and Robert Wise, Rod and Rob Seder, and 2-time defending AOY Cole Plouffe is lurking in the weeds. It should be a "can't miss" type of an event yet again.

13th Annual Monster Cat Roundup FINAL RESULTS
Posted in: Monster Cat Roundup