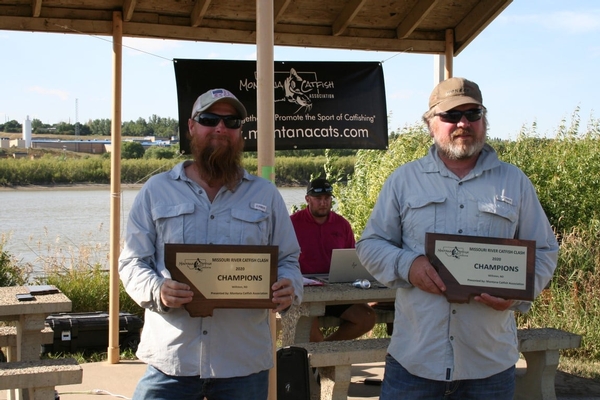 8/15/2010 (Williston, ND) – After 10 years, the Missouri River Catfish Clash can still take an anglers breath away! The beautiful stretch of water from the confluence of the Yellowstone and Missouri Rivers to the far west reaches of Lake Sakakawea is simply outstanding and continues to produce trophy Channel Catfish year in and year out. This year's event capped a decade of impressive performances by some of the finest catfish anglers throughout Montana and the Dakotas. 49 boats enjoyed a fine day on the water with twenty teams weighing in at least twenty pounds.
Many of the teams were on the water all day Friday for a day of pre-fishing and it left the anglers feeling like this year's tournament would be tight and that the big fish might be a bit tougher to come by than they have been in the past. But when tournament day came the cats still came out to play. A lot of cats over 7 lbs. hit the scales Saturday late afternoon and the biggest fish of the day still broke that magical 10 lb. barrier. Jayson Riggin took big fish honors with a 10.81 lb. trophy and local angler, Caleb Wells, took runner-up Big Fish honors with a 9.19 beauty.

Jayson Riggin's Big Fish helped catapult his 2-man squad to the top of the leaderboard. He teamed up with fellow Billings, Montana angler Robert Petersen to take home the title. Five Channel Cats at 36.20 lbs. The veteran Montana Cats circuit anglers topped off an outstanding season on tour. They were also 3rd place at the annual Milk River Catfish Classic in Glasgow, and secured a top 20 finish at the Yellowstone Challenge in Huntley. Outstanding job gentleman on your tournament title and a top five Angler of the Year finish this season.
Also boasted by the second biggest fish of the event was the runner-up team of Caleb Wells, Williston, ND. and Joshua Pruitt, Watford City, ND. as they were just three pounds off of a tournament championship. 5 Channel Cats at 33.26 lbs. Caleb and Josh know their local stretch of river very well and they continue to shine at the Clash. They were 2nd in 2016, 3rd in 2017 in addition to this runner-up finish in 2020.

Third place went back to their Western counterparts, as Eastern Montana anglers, Brenner Flaten and Cole Plouffe, boated 28.21 lbs. This breaks an incredible run of recent dominance, as Flaten had been on a 3-year run atop the leaderboard. The three consecutive tournament titles is a Montana Cats circuit record. Despite the fall to third place it is still five consecutive years finishing in the top four for Flaten and four out of five years in the top four for Plouffe. Very impressive consistency from the longtime circuit anglers.

Fourth place went to Scott Schmidt and Chad Dunwald, both of Sidney, MT. with 27.75 lbs. A fine basket by a pair of very veteran anglers. Rounding out the top five, was Austin Bement, Sidney, MT., and Casey Nagel, Minot, ND., putting up 27.33 lbs. Austin put a cap on an outstanding season on tour. He had already finished in 6th place out of 80 teams at the Milk River Catfish Classic and 7th place on his home waters at the Monster Cat Roundup. His third top seven finish of the season is good enough to place him 3rd overall in the final standings for Montana Cats Angler of the Year. Congrats Austin!
Per tradition, the Montana Catfish Association also announced the Montana Cats Angler of the Year at the Conclusion of the event. This year's recipient was once again Cole Plouffe, of Glendive, MT. Plouffe had another incredible season. He finished with 66 total points. It is the second consecutive AOY title for Plouffe, making him the first angler in Circuit history to win two AOY's, let alone do it in consecutive years. This is the first time in the eight years since Montana Cats officially began awarding an Angler of the Year that the title was secured by an angler that did not win a tournament during the season. In the end, it was ultimate consistency that led to a repeat performance for Plouffe and he proved that you can take the highest honor amongst your contemporaries without winning a single event. Cole started off the season with a runner-up finish at the Yellowstone Challenge in Huntley, followed it up with a 7th place finish at the Milk River Catfish Classic, and closed it out with the 3rd place at the Clash. For the second consecutive season Plouffe fished all four events with a different partner at each event. Congratulations Cole on another fine season!

As the 2020 Montana Cats season comes to a close we want to express our appreciation to everyone who fished our circuit events this year. All of you individuals truly make it what it is and it is certainly something special. Thank you and we plan to come back bigger and better than ever in 2021! We would like to highlight our four circuit level sponsors at this time; Whisker Seeker Tackle, Cat River Anchors, Shelly George w/ Thrivent Financial, and RS Jet Boat Anchors. We couldn't organize these ultra-competitive events without your generosity and continued support. See you ALL in Huntley for the 15th Annual Yellowstone Challenge on May 8th, 2021.
Please enjoy the pictures from the event and the complete finals results from this past weekend below.
---
Pictures
Pictures for this event can be found here.
---
Big Fish
| | | |
| --- | --- | --- |
| Jayson Riggin | 10.81 lbs. | Big Fish Award |
---
Complete Results


Posted in: Missouri River Catfish Clash